| | | | | |
| --- | --- | --- | --- | --- |
| Written by Thomas Corriher | | | | |
Reprinted from Issue 2 of Naturally Good Magazine.
Our Lone Ranger
Ben Taylor strikes us as something of a cowboy.  He is certainly 100% Texan.   We like him.  He owns an alternative health supplies company called Utopia Silver Supplements.  However, not everyone likes Ben.  In fact, our heroic crusader has made enemies in some pretty high places -- places like Washington, D.C..
The F.D.A. has been in a standoff with Ben for years.  To be fair to the F.D.A., it was Ben who stepped out of line.  Ben naïvely believed that he, and his customers, had the freedom to openly and honestly communicate about health issues.  Ben forgot that Texas is still a part of the United States, and thus we may not communicate anything threatening to the profits of our monied pharmaceutical corporations.  He really needs to stop saying the wrong things.  Things may have been as Ben envisions for us back in 1776, but Ben needs to get with the times, and to finally learn some obedience toward our governmental cronies and their corporate puppet masters.
The unrepentant Ben Taylor earned our Troublemaker of the Year Award for 2008.
Ben repeatedly violated F.D.A. "law" by allowing his customers to use his web site to discuss their experiences with alternative medicine -- discussing such issue in public no less.  Like the troublemaker that he is, Mr. Taylor refused to remove public comments at his site in the manner demanded by the F.D.A..  The problem was, of course, that every individual who gave a testimonial at Ben's site was in fact making "unapproved medical claims"; meaning that these visitors to Ben's site were likewise criminals for discussing how their illnesses were being illegally cured with unapproved methods.  Leave it to a Texan like Ben to aid and abet such criminal activities.
The Interview with Ben Taylor
Ben:  It went on for over 4 years: 12 or 13 court hearings.  I don't remember the exact number.
What actually started the whole thing?
Ben:  Well, here's what happened initially: a friend of mine owned Utopia Silver Inc., and he had an FDA complaint, which was an email by the way -- not a sworn affidavit or anything.  It was sent to the Texas Department of State Health Services, and the Texas Department of State Health Services then went to the Texas Attorney General, and they filed a suit against this friend of mine.  It went on for about two years, and I think that was around 2003.  I don't know the exact dates.
Anyway, for about two years, he had a lawyer, and they dealt with it.  His attorney said they really didn't have enough to take it to trial.  During that time, or thereafter, my friend had another business going on, and he wanted to sell the assets of his silver company.  So, I bought his assets and opened a new company with a similar name: Utopia Silver Supplements.  Within two or three months, they joined me to his old lawsuit.  And from that point on, I was the primary target, even though he was still named in the suit.
What was originally written or said to instigate the F.D.A. going after him, and you?
Ben:  First of all, the FDA is a tool of the pharmaceutical industry, and their ultimate goal is to control health care -- period, including all food products and supplements, in addition to the drugs they already control.  So, that is their goal.  They don't need a whole lot of reason.  But the reason they used is that the website was using testimonials, concerning various products; especially silver.  They said the testimonials were claims of disease prevention or cures, and when you have that they said, it becomes a drug, a new drug; which was absolutely insane.  In fact, I talked to the attorney general in a meeting in the judge's chambers, and he told me if I claimed that water cured dehydration, then I would have to get a drug license to sell it.  So, in their definition, anything beneficial that you put into your body...
Is a drug?
Ask your doctor if

Hydrocon™

is right for you!
Ben:  Oh, if you publicly state that it has a benefit, then it becomes a drug, because only drugs in their mind are beneficial.  It's such an insane thing.  It sounds almost silly to me.
What state are you at now with the F.D.A. and the court case?
Ben:  Are you asking where is it at now?  Well, we haven't heard from them in about eight months or so, and the document that [Mike Adams] published was the last communication from them to me, or me to them.  That was my document to them in challenge to their bogus court orders.
Would it be possible for us to get hold of the initial letter that you received from the F.D.A.?
Ben:  Well, you know, it wasn't even a letter.  It was like a three line email, and it was more like a suggestion.  I am just trying to think of the terminology, but it was from one F.D.A. official to the Texas Department of Health, or the Texas Department of State Health Services, pointing out that Utopia Silver was using testimonials, and that might be something that they would have an interest in.  So, there was no formal complaint.  I mean a complaint is supposed to have a sworn affidavit, you know, saying that someone has witnessed a crime.
Of course this is a system where anything can be a crime -- just whatever they say it is.  They don't even follow the rules of normal criminal or civil procedure most of the time.  I've probably got it somewhere, but I would have to dig for it.  But, like I said, there's not much to it.
Fair enough.
Ben:  I'm sure they had communications between them back and forth, but that was the only thing that I could get, and I came up with that through a public information act request.
Do you expect them to drop the case at this point then?
Ben:  Well, you know: you never know.  The problem is (and it's really not a problem because I don't worry about it), if you beat them, or if you stall them, or bring them to a halt on their actions; they're never going to write you a letter and apologize, and they are never going tell you that you've won -- that they're wrong and you're right.  Generally, you just may not hear from them.  So, for eight months or so, I haven't heard from them, but that doesn't mean I won't hear from them tomorrow.
Yeah.
Ben Taylor
Ben:  Just a little side thing on the F.D.A., we also found that the attorney general prosecuting the case in Texas, and the officials from the Texas Department of State Health Services were all also commissioned officers of the F.D.A..  So, you had officers of the state of Texas also being officers of a so-called federal agency; which is, you know, unlawful.  It's unconstitutional.  You have the division of powers -- separation of powers.
Amazing.  Out of all the companies out there that sell nutritional supplements and herbs, why do you think they chose to target you?
Ben:  You know, when my friend had the company; there wasn't that many silver companies.  I don't know how many.  I would guess probably only a dozen or so, and his was one of the larger ones.  I think they just targeted him.  I don't know if they just picked one, or it could have been that he was the only one that used testimonials.
I do know that the attorney general told us in the judge's chambers that we had been picked as a test case.
Really?  That is interesting.
Ben:  Yes.
Do you think that colloidal silver has been attacked more than most supplements?
Ben:  Yes, because it has probably received a lot more publicity, at least in the 90's, and the early part of this century.  You know, it is very effective, and it challenges the antibiotic industry in a big way.
Do you think the effectiveness of silver is directly related to how aggressively they went after you?
Ben:  Well, I think so.  If something had little or no effect, they wouldn't even worry about it.  So, you know, the intent is to bring all supplements under controlled regulation, and then just squeeze their use out of the market, or else make it so that only pharmaceutical companies can sell them, and they'll sell them essentially like they do the drugs -- at very high prices, and at low doses, so they really have no effect -- positive or negative.
Okay.  I have one more question for you.  Based upon the experiences that you have had going through this with the F.D.A., do you have any advice for other supplement companies that are suffering a similar situation?
Ben:  Well, I can tell you one thing.  Doing it the way I have done is not easy.  They don't give up easy.  Just because you're right doesn't mean they'll back down.  The early part of 2005 is when I bought part of the assets of the old company.  So, from early 2005 until now, I have dealt with them; until eight months ago.  It took three years, or so, to kind-of bring them to a halt.
As far as the other companies, here is one thing I know for sure.  If you hire an attorney, you are automatically in their jurisdiction, because you have to fight them by their rules, and you're probably not going to win.  I fought them as an individual with God-given, constitutionally-secured rights; and those they can't take away.  If God gives us rights, man can't take them away.  If man grants us privileges, then man can take them away.  So they try to convert everything that is a right -- a God-given right -- into a privilege.  All of these endless rules, regulations and statutes -- and once we accept this, you know, then we're really trapped.  As for other companies: good luck if they ever come after them, because it won't be easy, but at some point, if everybody would stand up to this system, I think it would fall like a house of cards.

Editorial: Fighting Dirty
I was once told, "The worst criminals are never imprisoned.  They wear business suits to their crimes".   It is the unstated policy of the F.D.A. to suppress alternative medicine on behalf of the multi-billion dollar pharmaceutical corporations who partner with it and who provide 97% of its funding.  Its job is not to protect the public, and it never was.
"The FDA protects the big drug companies, and is subsequently rewarded, and using the government's police powers, they attack those who threaten the big drug companies.  People think that the FDA is protecting them.  It isn't.  What the FDA is doing, and what the public thinks it is doing are as different as night and day."
-- Dr. Herbert Ley, Former Commissioner of the U.S. F.D.A.
The F.D.A. never changes, and its first major action back in the 1930's was to suppress silver in lieu of promoting its new and lucrative petro-chemical industry products.  In fact, the organization was even originally named the U.S. Bureau of Chemistry, before disguising its agenda through careful public relations work and changing its name.  Its checkered history has a tendency to repeat.   Its authority to dictate law is shaky, because it was created by a presidential order, not the U.S. Congress.  It is a governmental agency that has no regard for legitimate law or the Constitution of the United States.  Because of the F.D.A., free speech is excluded from the health industry, and your choices are being artificially limited to only therapies that are the most profitable, and this inherently means that they must be kept ineffective. Yes, the system is broken, by design.
The F.D.A. has actually been documented to have, on multiple occasions, burned the books and equipment of doctors who used competing therapies.  Doctors in the past who refused to be silenced have been imprisoned or had their licenses removed.  Most modern doctors know to be team players.
In Ben's case, the F.D.A. used state employees to act on its behalf, and the fact that it worked to hide its involvement proves that it was doing something improper.  Playing loose with the law; the F.D.A. hoped to get a legal precedent in a state court that it could later use, but it could deny that there was a precedent if it lost, by dishonestly claiming that it had been just a state case, in a state court, which did not involve federal regulators or federal courts.  It was intended to prevent Ben from getting his constitutionally provided protection against 'double jeopardy'.
Silver was once used in hospitals as an effective antiseptic and antibiotic, and it is still used in hospital burn centers for its incredible ability to heal burns rapidly.  In 1999, the F.D.A. completely banned silver from being used in pharmaceuticals, despite the fact that silver has been safely used as a medicine for centuries.  This decision was allegedly based upon evidence of people developing the condition Argyria (a potentially permanent grey coloring of the skin).  In truth, the people who changed color as a result of silver exposure either consumed faulty homemade, large particle solutions, or (more often) silver solutions containing salts, which were usually the chemically tainted, pharmaceutically-made silver solutions (U.S.P.), which were sold by the F.D.A.'s establishment.  Funny how that works.
The establishment actually poisoned its own silver medications with nitrate salts, and then it used the subsequent bad results to justify a ban on it to benefit its lucrative drug industry that competed with silver products.  This is a good example of the F.D.A.'s frequently deadly version of "science" -- the kind of science designed beforehand to produce the "best" test results, which coincidentally always benefits their business partners.  Their motives stem from the fact that it is difficult to control a natural substance, such as silver, and that their drug cartel cannot patent any natural substance.  Power to the people means a lack of power and profits for them.
The nitrate salts that they manipulatively used to tarnish the reputation of silver medicines are additionally known to cause cancers, and they are extremely hazardous to human health overall. Ironically, it is because of the nitrate bio-toxicity that most red meat products are now saturated with nitrates during processing, because bacteria, fungus, and everything else dies when exposed to them.  These toxic chemical additives are the real reason why red meats are believed to be "cancer causing".  Meats in their natural state are not toxic, or cancer causing, and the real danger is from the nitrates that are intentionally put into the meats to extend their shelf life.  Needless to say: the F.D.A. is more than okay with all of this.  Its partners in the food, drug, and chemical industries are being well protected.  It is quite an arrangement when the cancers caused by the foods that they regulate later fuel the profits of the drug industry that they regulate.  The fox never had it this good.
The type of silver product used in alternative medicine (the type Ben is selling) is typically colloidal silver.  There are no known negative side effects from using it.  It is made by electrically combining pure water with microscopic silver particles, instead of using toxic chemicals.  It is the safe and effective silver medicine, and interestingly enough, it is the type that the F.D.A. and its industry have refused to touch.  Instead, they generically talk about "silver products" (emphasizing the results of their poisoned versions), because the facts and statistics for colloidal silver products do not exactly help their case, or their business model.  Whenever the topic of colloidal silver is raised, the speed at which the topic is changed to toxic silver nitrate salts is dizzying, but that's "science" for you.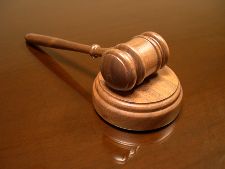 As Ben and his customers can attest to; we're not allowed to discuss the colloidal type of silver medicines.  Ben is not allowed to call his silver products medicines, which is probably why he calls them "supplements": but as members of the press, we are going to call it exactly like it is.
Ben made an important point about the use of attorneys.  Once a person surrenders his case to the care of an attorney, he has effectively placed himself in a position to play by all of the system's rules, and the judicial rules are not law.  Ben knew, as should you, that the Devil does not play fair.  Most people choose to be represented by a lawyer out of fear, but when agencies such as the F.D.A. are able to use fear to herd their opponents like cattle into accepting bogus arguments and nonexistent laws, then they have already won.  This is usually the way things go down.
Ben Taylor has proven that good men of courage can beat them. Thank you, Ben, and give them an extra punch from Health Wyze while you are at it.
Related Links
Audio Report: Episode 1 of The Health Wyze Report  (featuring guest Ben Taylor)
The Mail Bag #5: Colloidal Silver, Vaccines, Toothpaste, Sunlight, and Shark Cartilage
The Mail Bag #3: colloidal metals, free radicals, oxygen therapy, vitamins, D.M.S.O., and Vaccine Mercury
Real Medicine - A Case Study Of How Medicine Was Practiced Before The Dark Age Of The F.D.A. and The Rockefellers (Before the 1930's)
How the Rich Got Richer While the Sick Got Sicker