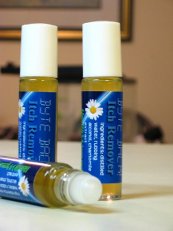 Over the past few years, we have advised our readers about how to effectively cope with insect problems using natural methods.  For example, we wrote about eliminating mosquitoes with fish ponds, and planting insect repelling plants like spearmint and onions.
However, there are times when being outdoors results in unavoidable insect bites.  Pharmacies offer a variety of chemical formulas that are marketed to eliminate the resultant itching and burning.  Their effects range from useless to painful.  The usual ammonia-based liquids are notorious for being worse than useless.  Putting them on a sting can give the victim an entirely new understanding of pain, whilst convulsing.  It takes nature to beat nature.
When Sarah first ventured to America from England, she discovered the menace that is known as the mosquito.  Hordes of those little vampires were a welcoming committee.  Having come from a nation where mosquitoes do not exist, her body had no defense or immunity to them.  Having tried the products at pharmacies to no avail, our research began.  The bite reactions were so bad that she was nervous when giving youth lectures on the topic of abuse for the local domestic violence department.  Like an abuse victim, she wore lots of long sleeved shirts and pants.  It seemed somewhat ironic.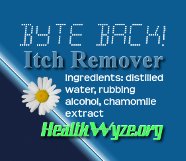 Eventually, we created a tincture that extracted chamomile oils with alcohol.  The combination seemed miraculous.  The golf ball-sized welts dissipated into small, normal-sized red circles in a matter of minutes after application, and soon disappeared completely.  When others were bitten who had much more tolerance to these bites, the solution caused their bites to completely vanish within 1-2 hours, but the itching stopped almost immediately.
Chamomile blossoms have strong, natural, anti-histamine properties, and alcohol helps to extract the oils that are responsible for this.  The alcohol also dissolves the oils already on the skin, helping it to quickly penetrate.  Nobody really understands how chamomile works, but its effect cannot be replicated with modern chemistry.  For the greatest efficacy, the blended chamomile must soak in an alcohol solution for several weeks, so it is ideal to keep prepared in advance, particularly during the warm months.  Over the years, we have found this solution to be helpful on numerous occasions for bites and allergic reactions of the skin.  Chamomile is a relative of ragweed and should be used with caution in those who suffer from ragweed allergies.  If any allergic symptoms occur, then discontinue use.
We have begun selling it in convenient glass bottles, with a roll-on applicator.  One bottle is likely to last an active person all summer, but avid campers and gardeners should order several.  We normally avoid mentioning specific products for a variety of journalistic and ethical reasons, but we can easily vouch for the quality and safety of this product because we make it ourselves.
As always, we list our ingredients proudly.
The ingredients
Distilled water
Rubbing alcohol   (the preferred vodka is illegal to ship in the U.S.)
Chamomile extract
If you would like to order Byte Back! Health Wyze Itch Remover, please head over to the store.
Related Articles
How To Create A Natural First Aid Kit
Neutralizing Poison Oak and Poison Ivy With Jewelweed
Natural Remedies for Bee, Wasp, and Hornet Stings