Page 5 of 5
Closing Arguments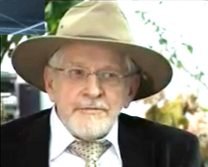 Instead of believing you guys are chemists and especially you Sarah, you should spend a little money with a professor of chemistry at a university. You guys are not chemists. You haven't a slightest clue as to the facts here. You are sailing along in la la land. You should have read that paper I suggested.
More than 5 million people have downloaded my basic free book. My total book is printed in 15 different languages. I have done lectures to hundreds of people all over Europe and other parts of the world with many actual chemists in the Audiences. Again you don't have a clue as to the chemistry. I have personally treated 5000 people and another 5000 over the internet all free of charge. More than a hundred thousand malaria victims were treated by people I trained and they were OK in less than 4 hours. Normally 400 out of that many would have died, but there were no deaths. I have seen more people cured of more diseases than any other person on Earth, you you guys are denying thousands of people the chance to overcome their suffering or to live a longer healthier life.
Please tell me why would I do this. I don't sell M.M.S.. I get no income from anyone who does sell M.M.S.. Why would I spend the time in the jungle. Can you possible believe that I just want to stand up in front of people and lie to them for no reason?
I am sorry. I was merely trying to help. All I have gotten out of you is sarcasm and hate. I am going to have to let you poor that out on someone else as I am not going to even bother reading the rest of your rebuttal. The last paragraph I have read is where you have laughingly tried to measure the oxidation voltage of hydrogen peroxide (Round 1). That is so dumb I can't believe you expert chemists could possible prepare the formula for an apple pie. You all have less knowledge of chemistry than a 6th grader and you then you call me names with sarcasm and hate. Frankly I don't see why you don't apply for a nice job at the FDA as you all have the same mentality. Here is a guy trying to help mankind so lets just see if we can make him look like shit. And you can, for a little while, then you will find that you were wrong about everything. I offered to help you and you just treated me worse that a cow.
I must not understand me. Maybe you can help. Why am I spending 18 hours a day doing all this for no income for the last 14 years. People didn't listen at all for the first 10 years, just the last 4 years. I spent all my retirement money and sold everything I own and gave my house trailer away to one of those homeless girls... [Word limit Reached]

Firstly, chemistry is not the solution to the diseases that plague our society. It's the cause.
Your success statistics are only available from you: an uncredible and self-serving source of information. We have given you chance after chance to provide real evidence that M.M.S. has some benefit, and that it is indeed safer than the bleach that it is. With thousands of purported 'miracle' cures worldwide, we would expect for at least one credible, independent, verifiable, 3rd party somewhere to actually document it.
If we ever decide to begin a business of poisoning already sick people (for instance with bleach) then we'll accept your advice about getting proper chemistry degrees. Until then, we'll suffice with our inferior educations.
Unlike yourself, real saints do not boast about their own greatness, stroke themselves publicly, or falsify information. You're far from the altruistic, selfless saint that you have consistently paraded yourself as being. It is unnecessary for truly righteous people to tell us of their greatness, and real saints have no desire to brag about themselves. You are hurting people, and you have willfully chosen to continue hurting people indefinitely. That is the opposite of saintly, as far as we are concerned.
Your allegation of not making money from your M.M.S. scam is cunning. You know that the one thing we cannot verify is your financial records, and therefore we cannot prove that you are lying about it. Be aware that this will quickly change if you are ever prosecuted in the U.S. for your crimes, because the incriminating evidence would become public records. When it happens, you can count on us to be one of the first to publish it. We noticed you moved to Mexico, which is a smart move. I likewise noticed that you said elsewhere, "I live in Mexico, just in case." Would a saint cowardly flee to another country, and would he even have a reason to?
Your personality closely matches a sociopathic boyfriend from when I was age 14. He was a convict and a pedophile in his middle thirties. This boyfriend followed the familiar sociopathic pattern of first reigning me in with fantastic fabrications about his history that made him appear heroic and saintly. Later, when he felt that his position and power had diminished somewhat, he began beating my spirit down by telling me about how inferior I was morally, and about how intellectually crippled I was. We know people like that, don't we, Mr. Humble? Finally, when all else failed, and he had become really desperate from his manipulation failures, he appealed to my conscience with guilt games about how I was hurting a modern day messiah. Sounds really familiar, doesn't it?
You are too arrogant to realize that you were beaten long ago, Mr. Humble, and you're too prideful to ever admit that we read you like a book from the very beginning. I hope this stands as a testament to your modus operandi, so that others will not be taken in by your slick games in the future.
Mr. Humble, you are in ours and many others' opinion, an inherently evil man.
May we call you "Jim"?
Epilogue
The wildly popular Signs of The Times (SOTT.net) site has backed The Health Wyze Report on the M.M.S. issue, and has reprinted both of our special reports about M.M.S. in their entirety. Because of this, Mr. Humble has moved onto trying to manipulate the people behind SOTT. He apparently felt that they would be easier targets considering how effective his manipulations have been with us. Mr. Humble has discovered that they are no easier. His newest claims about his own literal holiness are so incredible that we feel compelled to mention them.
Humble wrote:
"This church ['Spiritis Church', a.k.a. 'Liberal Catholic Church'] has come to us down through the centuries from the original apostles of Jesus Christ. There is an unbroken lineage of succession of Bishops for 2000 years to now. The name of each Bishop is recorded. The first apostles were Bishops. The Catholic Church broke off from this first Church 325 years AD, but the Original Church continued until now. You have never heard of it because it is small. It embraces all denominations of Christianity and actually all religions of the world and always has for 2000 years. I became a minister, a Deacon, a Priest, and finally a Bishop. So let me introduce myself again. I am Bishop James Humble...
"Let me introduce myself to you again, I am Bishop James V Humble concecrated [sic] into the lineage of Bishop leading back to Jesus Christ at Antioch when he gave the command, "go ye into the world and Heal the sick." As a Bishop I am expected to form a church which I have. The Genesis 2 Church of Health and Healing. That is what we do. We do healing. We do healing free at no cost and support the church on donations. We do not teach religious truths, but rather leave that up to other churches while we concentrate on healing the sick. Our Ministers, of course, do the same."
With Humble being the master manipulator that he his, we believe that we know where he is going with this. He is eventually going to try to hide behind Americans' right of religious freedom by declaring that M.M.S. is his holy healing elixir, which is necessary for the practice of his 'faith', as soon as he finds himself arrested in the U.S., or his sales become too crippled by regulatory action.
Related Articles
Neutralize Chlorine with Vitamin C
Common Frauds of Alternative Medicine
The Legend of Mike Adams and the Reality
Silica Supplements: Just Another Fraud
Alternative Medicine Fraud: Magnet Therapy
Special Investigative Report: Debunking The "Health" Products That You Thought Were Healthy
Hell Froze Over -- Why We Are Supporting The F.D.A. and Why Mike Adams Is Wrong
A Dangerous Pharmaceutical Espoused as 'Alternative Medicine': Dichloroacetic Acid (DCA)
Beware of Deodorants, Especially The "Safe" and "All Natural" Ones
Sunscreen Lies and Cosmetic 'Trade Secrets' or Why You Ought To Be Concerned About What You Are Rubbing On Your Skin
Soy is Unfit for Human Consumption