Page 6 of 9
---
Natural News and Truth Publishing: Made In Taiwan
Natural News is based in Taiwan, as is Truth Publishing International, its parent company. Mike has a history of promoting American companies that outsource jobs, and he attacked a legislative bill from the U.S. Congress of 2004, which was intended to penalize such companies. The bill was entitled, 'The Defending American Jobs Act of 2004'.
"The real problem here isn't that companies are trying to save a buck by moving jobs overseas, the real problem is that U.S. workers simply aren't competitive these days thanks to a failing national education system that churns out dopey students who can't do math except when it comes to figuring out how high their salary should be." -- Michael Adams, Natural News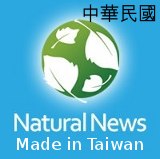 According to Adams, Asian workers are far more qualified to perform American jobs than the ignorant Americans are, and this is the real reason for outsourcing. Americans cannot even perform simple math, he contends. He conveniently ignores the topic of slave labor being cheaper, that the jobs are often performed by children for almost no pay, and that health and safety laws are virtually non-existent in the non-Western countries. Mike Adams wants us to believe that corporations are just looking for better educated people, which leads them toward seeking employees in countries like China and Taiwan. In actuality, our Asian replacements are frequently children, who skip an education to work 14+ hour days in factories. Due to Asian child employment policies, Chinese and Taiwanese children tend to have more work experience that our college interns do.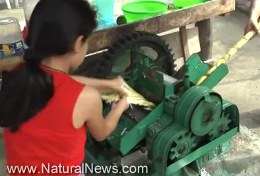 Pressing sugar cane for Mike Adams' consumption. How long will it be before this little girl loses a hand?
In March 2009, Mike posted a video of a business in Ecuador. The video featured the production of sugar cane juice, which was made by pressing sugar cane through an oil-covered, diesel-powered machine. Children were shown assisting in manufacture. In his accompanying article, Mike seemed confused by the outrage that was generated by his video, which essentially featured child slaves. He excused the affair by saying that it is normal for children to be actively involved in family businesses in South America.
"The site's [Natural News] expansion into multiple languages is part of the global vision of editor Mike Adams, also known as the Health Ranger, who speaks some Mandarin Chinese as well as Spanish." -- Natural News
None of the International languages at Natural News are Western languages, such as German, Spanish or French. Instead, Chinese and Japanese are featured. Meanwhile, Adams assures his readers that:
"Some of the best product brands in the world are all designed and made in Taiwan: Acer, Asus, Giant (bicycles), Trend Micro (anti-virus software), D-Link (network computing gear) and many others. Many quality brands that you think of as being American are actually manufactured in Taiwan then rebranded in America." -- Mike Adams
In the above tirade, Adams somehow forgot to mention his own companies. Truth Publishing and Natural News are both headquartered in Taiwan. Perhaps he forgot.
"The cost of living in Vilcabamba, Ecuador is surprisingly low, even if you're hiring a lot of help. A typical garden worker makes from $10 - $15 per day, and locals are always looking for more work." -- Mike Adams
When Mike lived in Ecuador, he took advantage of the impoverishment he found. He ensured that it stayed in the same condition, instead of fueling the economy. Adams admitted that the streets were void of street lights and that there was no reliable source of sanitary drinking water. His new Alex Jones-like persona now chastises the U.S. Government for similar exploitative behavior. Meanwhile, he is still exploiting the economics of outsourcing to Taiwan and taking advantage of its lack of legal regulations. An example of legal regulations that could be avoided by relocating to Taiwan are laws against medical fraud.