Page 4 of 6
Manufacturing Colloidal Silver & Video
The most important step in the production of colloidal silver is obtaining the right materials. Using distilled water is vital. Never use tap or spring water, because even minerals that would normally be beneficial can cause health problems once they are electro-chemically transformed through electrolysis. Ensure that the water has been distilled using steam distillation, which should be written on the container. Some "distilled" water containers have, "distilled through reverse osmosis" on the label, and these labels are entirely dishonest. True distillation uses steam to separate the water from its minerals and contaminants, whereas reverse osmosis is simply a type of pressurized filtration that does not render pure water. It is a much cheaper process, so some of the companies lie about their "distillation". Beware of Food Lion brand distilled water in particular, because our testing during the production of colloidal copper indicated that it is impure, even though it is labeled to have been distilled. Also be forewarned that the formation of black chunks and other strangely-colored precipitates during the electrolysis process is an indication of water impurities. Black is the most common color for these, because they are usually the charred carbon remnants of organic matter and bicarbonates. Grayish chucks may form in the water. These particulates are actually safe and produced by the silver. They are especially beneficial for burns and skin infections, but they should be filtered out of the solution for internal use. A coffee filter works exceptionally well for this, and the solution may be drained by gravity through a coffee maker. Silver particles which have not clumped remain in either a colloidal or an ionic state, and these will pass through any filter. In fact, the particles are so small that wooden spoons and plastic utensils will begin to develop a silvery appearance after several batches. Never use metal utensils. The only metals in the process should be the silver itself and the electrical connection wires.
Using chlorinated tap water is especially dangerous, because when chlorine combines with other materials, it has a tendency to form dioxin compounds. It will also produce chlorine gas during electrolysis, which was used as a chemical warfare agent during World War I. Sodium chloride (salt) in the water will also release chlorine gas, so salt should never be added. As an important side note, tap water should never be used inside vaporizers for the same reason, because chlorine gas will be released into the air to actually worsen lung issues.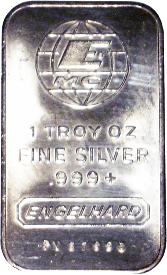 We strongly recommend that instead of obtaining silver wire, which is used for most colloidal silver manufacture, people instead use silver bullion bars (pictured). Most of the silver wire that is available comes from China, and it is simply not feasible to check every wire for impurities. Chinese wire should be assumed to be contaminated, since this is normal with Chinese products. When referencing the purity of their metals, companies use an obscure way of gauging it. Whenever a seller of a precious metal refers to it as having a purity of 925, it equates to 92.5 percent, so the given metal would be almost 10 percent impure. Most people will assume that a purity rating of 925 means that the metal contains only 0.925% impurities, and therefore that it would be over 99% pure. Be watchful of this gotcha. A large portion of the silver buyers seem to be ignorant of it. We recommend getting only 99.9% (written by sellers as 999) silver bullion bars.
However, modern buyers should beware even when buying "pure" silver bullion bars. It has come to our attention that the bullion market of the United States has been flooded with counterfeit bullion bars in recent years. Other countries are likely to be experiencing the same Chinese contamination problems. To minimize the risk of buying fakes, bullion bars should never be purchased from Craig's List, E-bay, or any other source that is not absolutely trustworthy, because the purity of the bullion is absolutely essential for health and safety reasons. We therefore recommend that our readers only purchase bullion bars from banks and other reputable institutions that service the financial market. In the not-so-distant past, bullion bars were an absolutely pure source of silver that were guaranteed to be safe, because they are regulated as an official currency. This once meant that any attempt to sell fake bullion bars would have risked a swift law-enforcement response for counterfeiting, and a plethora of additional charges that would have gotten a man imprisoned for the rest of his life; but alas that safety net has disappeared, for the Chinese have no fear of the law.
Coins contain a variety of metals that should not be consumed, so never use silver coins for colloidal silver manufacture. High purity is vital, because most metals are extremely detrimental to the health. Silver of such extreme purity typically only contains the impurities of copper and selenium, in trace amounts. Both of which are beneficial to health in these small quantities. In fact, both are vital nutrients. The selenium is actually used by the human body to chelate harmful metals.
To avoid any soap or chemical residues, the bullion bars should be soaked in a solution of white vinegar that is nearly saturated with salt for cleaning. They can also safely be cleaned with vodka. It is not absolutely necessary to clean the silver between uses, but we do. Be advised that the silver will never look new again, regardless of the cleaning method.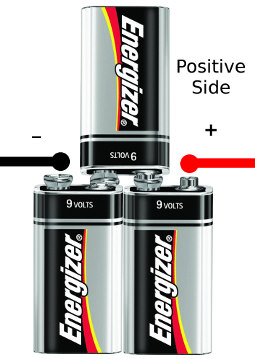 People may either use three 9V batteries that are interconnected in series, or a 30V DC power supply that has a rated output of at least 3 amps (3,000 mA), to power the electrolysis. A power supply does not have to be exactly 30 volts, but it is the ideal voltage. The range should be kept between 26 and 30 volts, which is also ideal for creating colloidal copper. Those who have no experience with electronics should opt for battery power, instead of using a DC power supply. Serious injury and fire can result from the improper use of a power supply. The electrical danger is elevated because water is being used. For liability reasons, we must officially recommend against using a power supply, and anyone using a power supply does so at his own risk. Batteries must be interconnected, so that the positive terminal of one battery is connected to the negative terminal of another battery. When properly connected, one battery should have an unused positive pole, and the opposite battery should have an unused negative pole. These two remaining terminals should be connected to the two pieces of silver. Most 9V batteries in the U.S. have terminals that can be used to interconnect with other 9V batteries, whereby connection wire is unnecessary for the battery to battery connections. Never use aluminum wire for any of the connections, and we strongly recommend the use of only copper wiring, for the sake of preventing unhealthy contaminants.
To make colloidal silver, fill a completely clean glass or plastic container with distilled water. We suggest cleaning the container with vodka immediately beforehand, to remove soap residues. Connect the batteries to the pieces of silver. Most people do this with alligator clips. We usually make our connections by inserting copper wires through tiny holes in the top of the silver bullion, and then we twist-tie the wires for maximum hold. Never solder the connection to the silver, and it is wise to even avoid soldering the wires to the alligator clips, for solder can leach lead or cadmium into the solution if the metal components become moist. Nobody should be supplementing with lead and cadmium.
The silver bars should be partially submerged in the water, and be about an inch apart. They should never touch, and the wire connections should never enter the water. If the connectors or silver are allowed to touch, the batteries or the power supply will have a dead short. This could cause overheating and an explosion. It could easily mean a quick death for the power supply. The electrical connections to the silver should be clearly above the water, else other metals will become infused into the solution. Nothing except for pure silver should be in contact with the water. We recommend that all other connectors and wires be maintained at least a quarter inch above the water's surface. We should offer one last reminder of the risks of using solder, which include the introduction of tin, lead and cadmium into the product.
The time needed to produce colloidal silver will vary greatly depending on the purity of water that is used, and no commercially-available water is absolutely pure. One of the first indicators that silver is combining with the water can be seen with a flashlight in a dark room. Shining light through the water at certain angles will show what appears to be smoke coming from one of the silver plates. As time progresses, one of the silver plates will turn a flat gray color, and the other plate will blacken. Tiny bubbles may also form around the silver plates. Those producing a large batch over an extended period should gently stir the solution periodically, using a wooden or plastic spoon. Some people can produce a quart in twenty minutes, but our own experimentation in making 2 quarts required a duration of 4 hours to reach the acceptable strength and color. Due to the fact that silver is extremely non-reactive, a slower process indicates higher purity in both the silver and the water. Pure water and pure silver will both be very resistant to the electrolysis process. Readers may notice that many of the online manufacturing videos show colloidal silver being produced very rapidly, using silver wires that were obtained from China. The short manufacture time indicates the presence of other, more reactive metals, and perhaps impure water too. When producing our own colloidal silver, we add about 3 fluid ounces of existing colloidal silver to speed the production time, without effecting the quality of the resultant product.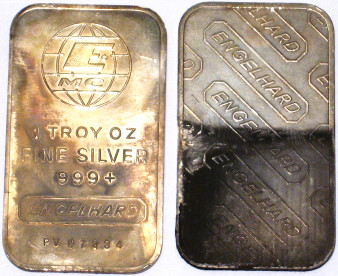 To make the silver bars last as long as possible, the polarity should be reversed each time. This means that the silver bar that is connected to the positive (red) wire in one batch should be switched so that it is connected to negative in the next batch. Otherwise, one of the bars will rapidly erode.
If a colloidal silver solution is black, brown, or purple, then it indicates that the silver particles are abnormally large. It may also reflect the presence of impurities. The huge particle size of these products makes it debatable if these solutions can truly be called colloidal. It is how most colloidal silvers from online sellers look. The ugly discolorations can also be caused by heating during production, or from the use of high voltages, which are common shortcuts taken by the commercial manufacturers. We recommend that such solutions be avoided, except as a last resort. These products are significantly less effective internally than properly-produced colloidal silver, and the abnormally-large silver particles are more likely to get forever trapped in the tissues. Most commercial sellers have proprietary processes for production, which cannot be trusted, and there is no way to know what is really in their products. We do know from the color of their products that they are not selling true colloidal silver.
Properly Medicating with Colloidal Silver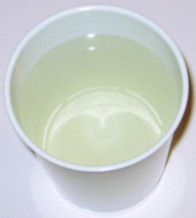 High quality colloidal silver, at an appropriate medicinal strength, usually looks slightly yellowish in a brilliant white container, under a fluorescent light. Some batches of colloidal silver will instead have a slight silvery tint. The two colors are an indication of a particle size difference, but there should essentially be no difference in effectiveness. Some batches turn yellow about a day after production. The strength of a colloidal silver solution can be judged by shining a laser pointer through the solution, whilst the silver is being infused. A red laser pointer is best, because it is least visible under normal conditions. As the silver solution gets stronger, it will become possible to see the red beam clearly through the water. As the solution becomes more concentrated, the laser beam will become more solid.
We recommend against making stronger concentrations for most uses, because silver appears to create iron deficiencies with extreme dosages. We do not truly know if the colloidal silver causes the increased excretion of iron, or if it simply neutralizes usable iron by bonding with it, or both. We believe that it is both. Either way, there are no real human toxicity issues, but the proper iron level should be nevertheless maintained for optimal health.
During times of sickness, we recommend using 3 fluid ounces of colloidal silver, twice a day. Best results can be achieved by holding the colloidal silver in the mouth for a minute before swallowing it. This technique allows some silver to penetrate through the walls of the mouth, and directly into the blood stream. Expect for it to have a metallic aftertaste. Due to the wide variety of people who will read this article, we have made the recommended silver dosage very conservative. However, some patients measure their dosages in cups.
Storage of Colloidal Silver
Colloidal silver may be stored in either plastic or glass. The ideal plastic is the type that is used to store milk. It is high-density polyethylene (HDPE), and it can be identified in the U.S. by a number "2" embossed into the bottom of the container. It is a very non-reactive plastic, but the microscopic silver particles may stain it.
Colloidal silver should be stored at room temperature, and never allowed to freeze. The silver will coagulate into visible chunks at the bottom when frozen, which will make the solution much less effective and create the possibility that it will cause argyria. Therefore, an interesting experiment to verify the presence of silver in the solution is to freeze a small amount of it, and then examine the clumped silver in the bottom of the container after thawing. If a choice must be made between storage in a hot or cold environment, the warmer environment should always be chosen.
Pure colloidal silver should not experience any of the serious breakdown problems that silver chloride solutions do whenever there is light exposure; but we nevertheless store our colloidal silver in a dark location, because darkness might somewhat help to keep it better preserved.
A good batch of colloidal silver should last for years, because the silver itself is a powerful preservative. In fact, we use it as a substitute for water in risky foods that use uncooked ingredients, such as raw eggs (for mayonnaise production). It is used to ensure that all of the bacteria is dead. A minute of blending with colloidal silver is enough to ensure that no bacteria survives.
Patients Experiencing the Blues
The medical establishment and the big media organizations have demonized colloidal silver by parading people who have developed a condition known as argyria. It is a bluish-gray discoloration of the skin that is reported to be permanent. However, every case that we investigated involved products that were not actually colloidal silver, and most cases were the result of pharmaceutical-industry silver products. Our exhaustive research could not find a single instance of argyria that was caused by pure colloidal silver. The pharmaceutical silver solutions are the most likely to cause it.
Regulators proclaim that the people who turned blue provide evidence of silver's toxicity, but the opposite is actually true. It proves that even after a person is so incredibly saturated with silver from 20+ years of misuse that he turns blue, he still does not suffer from any health problems. The blue patients are actually healthier than normal. Take for comparison: a patient who consumes enough aspirin to turn white. Actually, we cannot use this example, because within 20 minutes of such extreme aspirin consumption, the patient would be dead from internal bleeding -- long before he ever began changing color.
The National Institutes of Health documented one case of argyria that occurred when a man started producing his own silver solution and consumed 16 fluid ounces of it, three times each day, for a period of years. He measured his silver to contain a whopping 450 parts per million, which is 22 times stronger than is normal. This regimen gave his body the same concentration of silver as if he had consumed 1,056 fluid ounces of standard colloidal silver (8.25 gallons per day). The extreme concentration means that the silver had to be discolored and impure, and it almost certainly had salt added. Otherwise, it would have taken him days to manufacture each day's batch at such concentrations, so we can be certain that he was using silver chloride instead of colloidal silver. It is a reflection of the stupidity of turning to pharmaceutical manufacturing processes for the practice of alternative medicine, and then using the terrible results to prove that alternative medicine is bad. It is what we see most often in the politics of silver.
The most popularized case of argyria is that of Paul Karason, the so-called Smurf Man. He internally consumed large doses of a homemade silver solution for years, and then began also using silver externally on his face. He too made his silver solution using salt, which resulted in silver chloride. Despite it being a completely different substance, he refers to his solution as "colloidal silver", as well as the media. We believe that after he noticed some slight skin discoloration, he actually increased his dosage, because he had found a way to become famous and profit from being a freak. He admits publicly to using excessive amounts of his silver chloride both internally and transdermally, daily for 14 years. He still continues to use it, despite his obvious saturation. He further admits that his face turned blue before the rest of his body; and yet he continued to use both silver products, despite the color change. Due to Karason's self-inflicted and intentional cosmetic alteration, the F.D.A. has used him in a public relations campaign that is intended to convince the public that colloidal silver is dangerous. We can only speculate about how much the media networks and the F.D.A. have paid him for his appearances.
Not one death or serious side effect has ever been recorded for pure colloidal silver, during the century of its existence. There are, however, plenty of horror stories from people who used the chemically-altered silvers, made with various proteins, salts, or fermented bacteria.
Video: How to Make Genuine Colloidal Silver at Home
The video is 36 minutes long. Those who have difficulty with this player may watch it at Youtube. The transcript is also available.