Page 2 of 7
---
Natural Sweeteners
---
Evaporated Cane Juice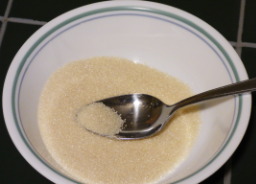 This is made by pressing sugar cane stalks in order to extract the plant's sugary juice, and then the resultant liquid is allowed to crystallize. The sugar crystals are ground and sold. This ancient procedure produces the only real powdered sugar that the world has ever known. The powder is a beige color in its natural and organic form. The crystals of real cane juice should always be purchased instead of the brilliantly white "cane sugar", which is commonly known as "table sugar". Evaporated cane juice is our top recommendation for anyone needing a powdered sugar, and we confidently use it ourselves. The only ingredient listed should be "evaporated cane juice". If a product's label has any deviations from this, then you may know that its producer is dishonest, because it is not truly sugar anymore. Be cautious to never confuse evaporated cane juice with "pure" cane juice, or any of the other word combinations that have been carefully designed to mislead customers. It is a trick to snare the somewhat health-conscious. The powdery alternatives to evaporated cane juice are neither pure, nor are they healthy, as will be thoroughly explained in the section about processed sugars.
Honey
Honey provides an abundance of health benefits. It contains anti-histamines that are specific to all of the pollens that its maker bees were exposed to. For this reason, getting honey that was produced by local bees can make a dramatic difference for those with environmental allergies. Honey also contains magnesium, calcium, iron, vitamin B-6, vitamin B-1, and a small amount of vitamin C. It does not cause the spikes in blood sugar that regular sugars do. This is believed to be in part because of the B-vitamins that it contains, which are known to help the body to regulate sugars. Honey is probably the healthiest sweetener in existence overall, and it outclasses even evaporated cane juice. Honey is the gold standard of sweeteners. It is the only sweetener mentioned in the Bible, as one of the few foods which God considered to be good enough for the infant Christ.
Maple Syrup
Maple syrup is the sap of the sugar maple tree. It is usually pasteurized (heated) to eliminate bacteria, but it is otherwise unaltered. It contains iron and magnesium. Be wary of imitations that use deceptive labeling, such as "maple flavored syrup". These are usually made of high fructose corn syrup that has been mixed with other chemical flavorings.
Stevia
Stevia is a plant that is native to South America. It is ten to fifteen times sweeter than sugar. The organic green powder is sold online and at some health food stores. It is added to foods and hot drinks. Stevia is estimated to have been used in South America for over 1,500 years. Some people find its bitter aftertaste to be disagreeable, whilst others enjoy its unique flavor.
The majority of products that are sold "with stevia" do not actually contain any stevia. It is more words games from the industry, which were blessed by the F.D.A. again. These products merely contain one chemically-extracted component of the stevia plant. Real stevia leaves cannot be added to commercial foods within the United States, because the F.D.A. labeled stevia as an "unsafe food additive" in 1991. This was done entirely by fiat, for there are no reports of any human ever having been harmed by stevia throughout history. At that time, Arizona congressman Jon Kyl, described the F.D.A.'s response to be "a restraint of trade to benefit the artificial sweetener industry". In December of 2008, the F.D.A. gave approval for the chemical Truvia (developed by Coca Cola) and PureVia (developed by Pepsi), both of which use rebaudioside A, a compound that is found within the stevia plant. Organic stevia leaves, which have been used as a sweetener for millennia, remain banned in U.S. foods. Instead of having stevia as an option, American shoppers have PepsiCo's 'stevia'.
Some of the products dishonestly state on the label that they contain "stevia leaf extract". This would have been true only if the constituents of the stevia leaf had been extracted by pressing or boiling. In actuality, it is chemically extracted using industrial solvents. The labels never state that it contains a compound that was chemically extracted from the stevia plant, then isolated with industrial solvents. The agenda is to get health-conscious consumers addicted to these products from the chemical industry, so that true stevia, which is unpatentable, never gains a large market share.
While the stevia plant is absolutely safe enough to literally eat, we warn against the chemically-extracted imitations that are being sold as "stevia". Be advised that real stevia is never white. The long-term effects of the synthetic imitations and extracts are unknown.