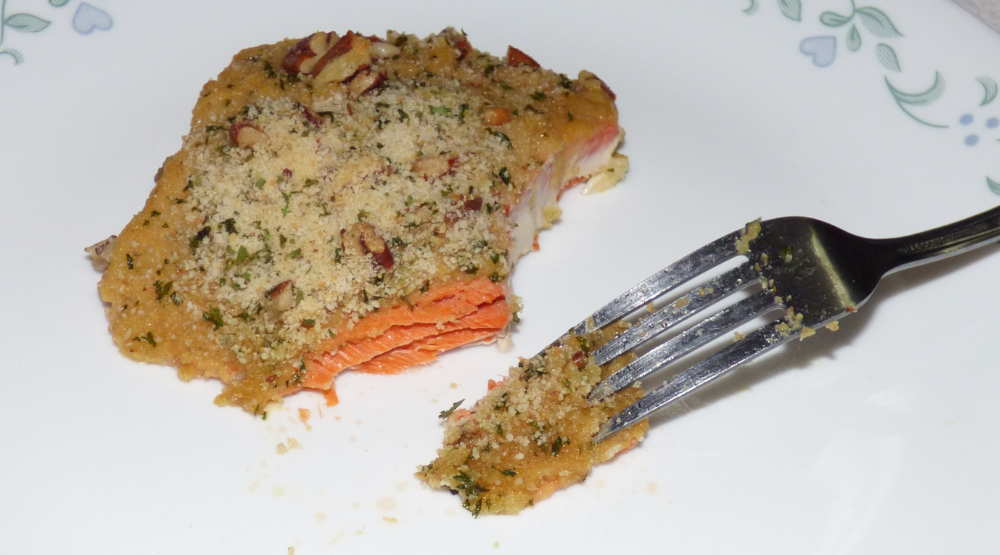 Ingredients
1⁄4 cup butter, melted
3 Tbsp. Dijon mustard
1 1⁄2 Tbsp. honey
1⁄4 cup dry breadcrumbs
1⁄4 cup finely chopped pecans
4 tsp. freshly chopped parsley or 1 tsp. of dried parsley
4 (4 ounce) salmon fillets
sea salt
black pepper
lemon
Directions
Preheat oven to 400° Fahrenheit.
Mix together mustard, butter, and honey. In another bowl, combine the breadcrumbs, pecans, and parsley.
Lather each piece of salmon with a thick layer of the mustard mixture, and top with the spiced breadcrumbs.
Bake for 12 to 15 minutes, or until it flakes easily.
Optionally
Sprinkle onto the already garnished fish an extra pinch of sea salt and then smother it with black pepper, and finally squeeze lemon juice on top, for a more Southern taste.