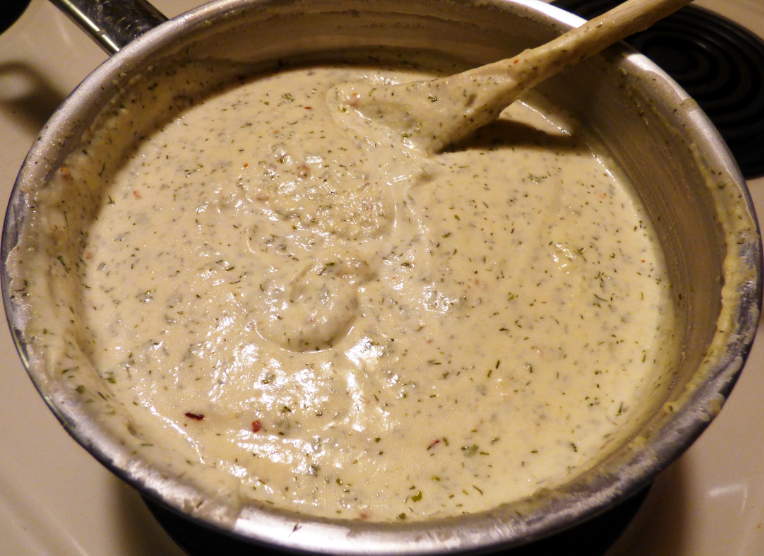 Ingredients
1 stick butter
16 ounces cream cheese
16 ounces monterey jack cheese
2 cups water
1⁄2 cup Parmesan and Romano
1⁄2 tsp. garlic
2 Tbsp. parsley
1 Tbsp. dill weed
1 Tbsp. onion
1 Tbsp. red pepper flakes
1 ounce vinegar
Bow tie pasta (Farfalle)
Sea salt
Directions
Combine all ingredients, except for the bow tie pasta in a sauce pan. Use medium heat to melt the cheeses.
At the same time, get another pan, add enough water to it to cover the noodles, and heat at high heat for boiling the pasta noodles.
Add about a teaspoon of sea salt to the plain water, but do not salt the cheesy mixture.
Add pasta into the water once it begins boiling and allow it to boil until the pasta is appropriately soft. Then remove it from the hot burner and it set aside.
Continue heating the cheesy mixture until it has a saucy consistency.
Strain the noodles to remove excess water, then mix in a bowl with the cheese sauce.
Notes
This recipe is too "hot" in the spicy sense for some people. Decrease the amount of red pepper flakes, or remove the ingredient altogether, if you are expecting sensitive eaters. Spicy "hotness" can sometimes be overcome with extra parmesan cheese.