Built with love but raging with power
User's Manual
Frequently Asked Questions
Warranty Information
Thomas Explains the SCREAMER
Summary Information and Connections
AMD Architecture
Features the Ryzen 7 2700 CPU (8 cores w/ 16 threads) max boost 4.1 GHz
Memory: 32 GB
Storage: Varies by customer selection (Minimum 1 TB)
Video: Onboard plus GeForce GTX 1070 w/ 8 GB or Radeon RX 580 w/ 8 GB
Includes both gigabit Ethernet and WiFi networking
Case has places for more hard drives and two front pop-out bays for two CD/Dat/Floppy style drives.
Front Panel Features
2 x USB 3.0 ports
Headphone/Mic ports
Power Button
Reset Button
Rear (Motherboard) Connections
PS/2 port
Display port
HDMI port
Ethernet/Lan port
2 x USB 3.1/3.0/2.0 ports (teal blue)
USB 3.0/2.0 port (Type C)
5 x USB 3.0/2.0 ports (blue, Type A)
Optical S/PDIF output
5 Audio jacks (line in, front speaker output, microphone in, center/subwoofer, rear speaker output)
Operating System
Windows 10 Professional is installed on each SCREAMER! system and every customer is given a genuine activation key from Microsoft. A backup copy is not included, as has become normal. Our customers may use their key to activate any copy of Windows 10 Professional, which is freely downloadable from Microsoft and others. We recommend keeping a copy of Windows 10 Professional on a bootable USB memory stick and the activation key handy for whenever software catastrophe strikes. Contact us if you completely lose your activation key. We'll be keeping a record of it for you, because we're so incredibly sweet. However, it's up to you to make the backup installation "disk" with a memory stick by following Microsoft's instructions.
Central Processor (C.P.U.)
AMD Ryzen 7th generation 2700 processor
8 Cores and 16 Threads UNLOCKED
Frequency: 4.1 GHz Max Boost. (SCREAMER! models are shipped with automatic overclocking maximum set to 3.95 GHz -- our recommendation for perfect stability)
CMOS : 12nm FinFET
Includes Wraith Spire cooler with red LED band
20MB of Combined Cache
Motherboard (Asus Prime x370-Pro)
Type: ATX
Chipset / Architecture: AMD X370
Processor Socket: AM4
Maximum RAM: 64 GB (4 DIMM slots)
Memory Slots: 4 x 288 Pin DDR4
Expansion Slots
3 PCI express version 3
3 PCI express version 2 (compact)
Special Features
BIOS provides intelligent auto-tuning and dynamic fan calibration
Dual SafeSlots support SLI or CrossfireX
On-board M.2 capability
USB 3.1
AURA Sync RGB Lighting Support
Onboard Gigabit Ethernet/Lan
Features an injection molding process that integrates metal framing for a stronger, firmly anchored PCIe slot built for heavyweight GPUs.
SLI HB bridge compatible with backward-compatible USB 3.1
Type-A and reversible USB 3.1 Type-C front-panel connectors
x4 PCI Express 3.0/2.0 bandwidth
M.2 supports up to 32Gb/s data-transfer speeds.
Memory
The SCREAMER! systems come with 32 Gigabytes of Corsair Vengeance LPX DDR4 DRAM. This memory was selected for its overall quality and its low profile form factor.
Power Supply
A Rosewill Glacier Series AC-to-DC power converter is utilized in each SCREAMER! It is rated for 600 watts, which greatly exceeds the needed power. The unit is 80 PLUS Bronze certified, with up to 85% efficiency under typical loads. It comes with heavy-duty protections, including OVP, UVP, OCP, OPP, and SCP.
Audio
The motherboard utilizes a unique audio codec designed in close collaboration with Realtek. The Realtek S1220A features an unprecedented 120dB signal-to-noise ratio for the stereo line-out and a 113dB SNR for the line-in, providing pristine audio quality.
Networking
Onboard
Standard ethernet RJ45 (cable) connector for speeds up to 1 gigabit
External Wifi USB networking card (wireless):
Made by Glam Hobby Ourlink
802.11 ac standard for up to 3x faster than Wireless N adapters
Dual band connections (5 GHz 433Mbps, 2.4 GHz 150Mbps)
SoftAP Mode to create a Wi-Fi hotspot for mobile devices whenever there is only one wired Internet connection
Works with Mac OS X, Windows, and Linux without requiring drivers
Backward compatible with 802.11 a/b/g/n products
Compact design for easy carrying
Solid State Drive (Optional)
Brand: SanDisk
Model: SSD PLUS
Capacity: 1 TB
Standard Hard Drive (Optional)
Brand: Seagate
Capacity: 2 TB
Model: BarraCuda
Interface: SATA
Interface Speed: 6 Gb/s
Rotational Speed: 7200 RPM (most drives are in the 5,000 range)
Cache: 64 MB
Radeon RX 580 8GB Dual-fan Video Card (Optional)
Features
1380 MHz GPU Boost Clock (OC mode)
AMD Radeon VR Ready Premium with dual HDMI 2.0 ports to simultaneously connect headset and monitor
Dual-fan cooling provides doubled airflow for 3x quieter gameplay
An 8-Pin power connector
Ports
DVI-D Dual Link
2 Display Ports
2 HDMI
Nvidia GeForce GTX 1070 8GB Video Card (Optional)
Base Clock: 1594 MHz
Boost Clock: 1784 MHz
Memory Detail: 8192 MB (8 GB)
Cuda Cores: 1920
Ports
DVI-D Dual Link
HDMI
3 Display Ports
Overclocking
All HW SCREAMERS are shipped with their video cards having already been set to automatically overclock whenever there is sufficient demand. This is regardless of whether it is the Radeon or the Nvidia model. Likewise, central processors are shipped at the optimal overclocking too. In other words, everything is optimally overclocked out of the box.
---
Oh Yeah!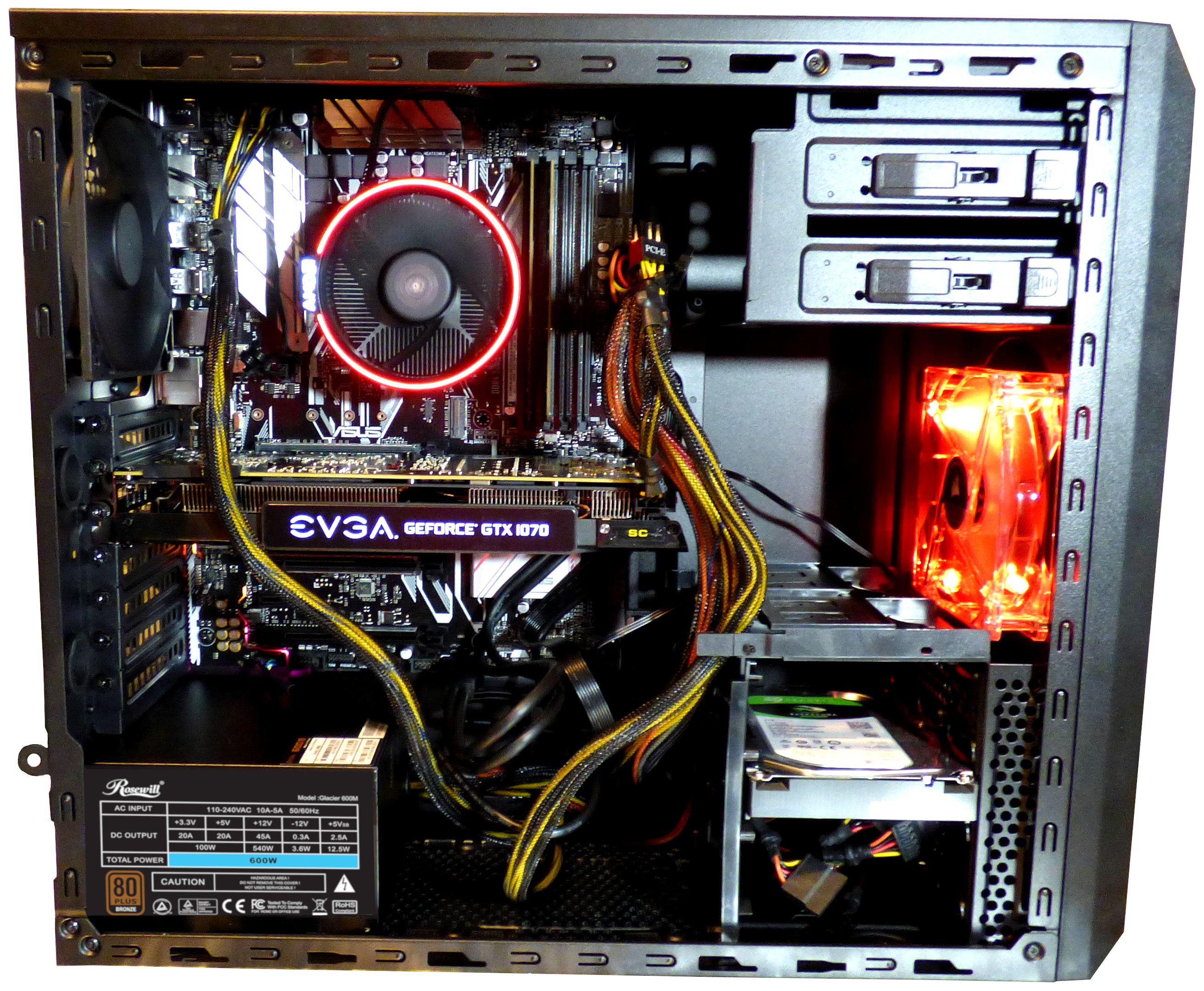 Built with love but raging with power

You know you want it.
Product Info
Featuring:
Free U.S. Shipping