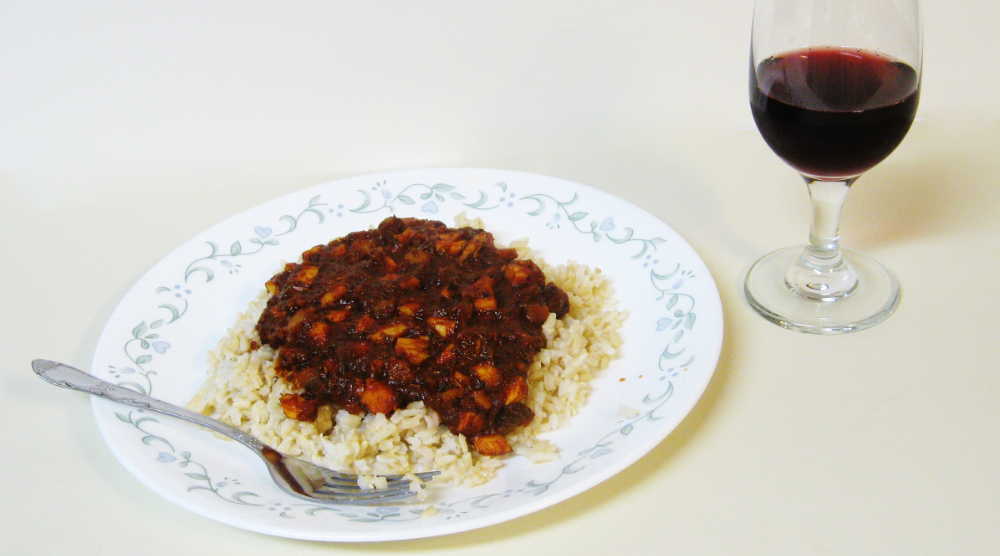 Sauce:
Two 14.5 ounce cans of tomato sauce
1 cup of apple cider vinegar
1 1/2 cups raw honey
1 cup white zinfandel
Spices:
2 tsp. sea salt
3 Tbsp. garlic
3 Tbsp. chili powder
4 Tbsp. paprika
3 Tbsp. powdered onion
1 Tbsp. achiote molido (annatto)
1 Tbsp. chipotle chili pepper
2 1/2 Tbsp. curry powder
2 Tbsp. basil
1 Tbsp. cumin
1/2 cup oregano
Other:
1 chopped medium onion
1 chopped green bell pepper
6 boneless skinless chicken breasts
1 bag of organic rice
Directions
Cook chicken breasts according to the instructions on the package
Cut chicken into small squares
Create sauce under medium heat, and add spices
Saute chopped onion and green pepper together
Add the onion and green pepper to the sauce
Add chicken to sauce, and allow to simmer for thirty minutes
Serve over rice. For the healthiest results, use only unbleached, whole grain rice.