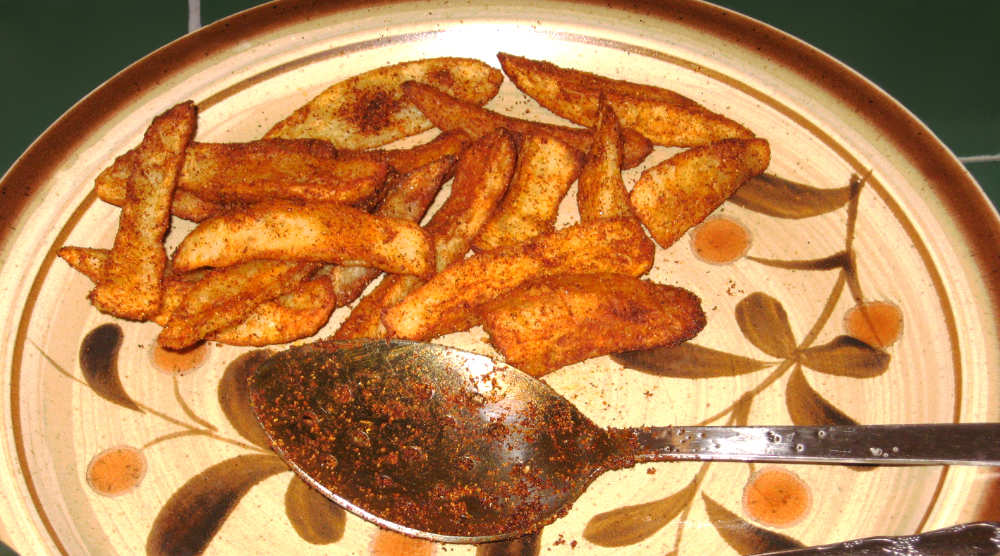 We proved that it is possible to make those incredible Bojangle's fries, do it cheaply, and actually make them 100% healthy. It's true: we are miracle workers.
Ingredients
6 potatoes
5 Tbsp. chili powder
1 1⁄2 Tbsp. sea salt
1 tsp. cayenne pepper
1 1⁄2 tsp. curry powder
1 tsp. cumin
1 tsp. black pepper
Directions
Cut large fries out of potatoes.
Cook in deep fryer at 375° Fahrenheit for 6-9 minutes, or until they become golden brown.
Remove from fryer, and immediately heavily dust with spice mixture, while tossing (like a salad), in a large container.
Notes
We recommend using peanut oil for the deep-frying, due to its ability to stay intact and reasonably safe even at extreme temperatures.  Most other oils break down much easier to form toxic compounds.