| | | | | |
| --- | --- | --- | --- | --- |
| Written by Sarah Cain | | | | |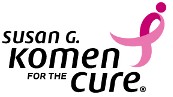 It may stun many readers to learn that the Susan G. Komen Breast Cancer Foundation sponsors Planned Parenthood, the "family planning" organization that performs assembly line abortions. The Komen Foundation is also an organization that conveniently neglects to mention that both abortions and routine mammograms are sure methods of inducing breast cancers. In fact, the risk of getting breast cancer from either of these activities alone is greater than the risks of smoking and poor diet combined. The Susan G. Komen Breast Cancer Foundation may very well be the greatest cause of breast cancer in the world.
Planned Parenthood and the Komen Foundation make surprisingly fitting partners, since they are both militant promoters of a feminist ideology and internally have a death worship culture. These ideals overshadow any amount of compassion for the women who they claim to help. The ultimate product of their agenda is broken families and widespread death, as will be explained later. While Planned Parenthood manages to achieve its anti-family and anti-Christian agenda in a direct and obvious manner, the Komen Foundation is more subtle with its own internal strategy groups, such as the 'Lesbian, Gay, Bisexual and Transgender National Advisory Council'.
The amount of money that the Susan G. Komen Breast Cancer Foundation has donated to Planned Parenthood is currently being kept obscured. Life News reported that $730,000 was donated to the abortion organization in 2009 alone, but we are unable to confirm the exact figure. A public relations representative from the Komen foundation disclosed to The Health Wyze Report that the amount of money annually funneled into Planned Parenthood is "about $700,000", which lends strong credence to the earlier figure. The Komen foundation boasts that it has "invested almost $2 billion" since it's inception in 1982. What the Komen Foundation actually does with that funding is never disclosed. The money is shrouded in secrecy, but it is said to be, "energizing science".
"Our only goal for our granting process is to support women and families in the fight against breast cancer. Amending our criteria will ensure that politics has no place in our grant process. We will continue to fund existing grants, including those of Planned Parenthood, and preserve their eligibility to apply for future grants, while maintaining the ability of our affiliates to make funding decisions that meet the needs of their communities."
-- komen.org
The Susan G. Komen Breast Cancer Foundation (alias Susan G. Komen for the Cure) maintains that the money given to Planned Parenthood is specifically earmarked for breast cancer screenings only. They neglect to mention that the money donated for radioactive screenings at Planned Parenthood actually frees Planned Parenthood's funding, so that it can provide more of its other services. They carefully omit mentioning the fact that the breast cancer screenings cause breast cancers, due to radiation exposure from the tests. Likewise, the contraceptive pills issued at Planned Parenthood, and the abortions performed - more than doubles the cancer risk.
All of these things would be considered horrendous by the pro-life advocates and churches who regularly donate to the Komen Foundation. They are kept ignorant of the special partnership between Komen and Planned Parenthood like the rest of us are. Planned Parenthood is scarcely mentioned on the Komen web site. This has been the case since early 2012, when the organization encountered media criticism about its formerly secret partnership. In the event that the partnership is discovered by Christian benefactors, the Komen Foundation has a statement ready from their token Christian, Norman Roberts, who attempts to rationalize giving donated funds to Planned Parenthood as "moral". Somehow the organization considers its own fundraising to be moral, despite defrauding its own donors as a routine part of its "charity" work.
Komen appears to have a policy of partnering with unethical organizations. For instance, their pink ribbons never appear on organic foods, ever. They tend to promote only cancer-causing foods and products. The irony of their past support of aluminum-containing (breast cancer causing) deodorants is staggering, and their partnership with KFC was mocked publicly by comedian Stephen Colbert. The organization's partners range from aspartame-laced yogurts to MSG-containing pizzas. Under the banner of saving lives, we find an organization promoting cancer in its every action.
| | | | |
| --- | --- | --- | --- |
| | | You are likely to find the sneaky Naturally Fresh brand of deodorant in Whole Food's Market sporting a Komen pink ribbon emblem. Its ingredient's list includes, "natural mineral salts (potassium alum)". That alum is nothing natural. It is made from aluminum that has been chemically processed. It is an accumulative, carcinogenic, heavy metal compound that is made with aluminum and phosphorus, and it was used instead of aluminum chlorohydrate in this product, in order to disguise the fact that the product contains aluminum. Deodorants containing aluminum compounds are one of the leading causes of breast cancer. This is a typical Komen Foundation endorsed product, so buyer beware. | |
The evidence suggests that the Komen organization has no sincere interest in the cause or cure of cancer. Any success would immediately dry-up its funding, so cures are the last thing that the foundation wants. This is why its members sidestep mentioning any safer or more effective therapies than the status quo. One need not have billions in research funding to discover effective cures or the causes of cancer; for all that is needed is a free card to any public library, or an Internet connection to learn about the 1931 Nobel Prize discovery of Dr. Otto Warbug. The Komen organization's continued silent complicity with a medical system that easily kills over 10 times the number of people who are killed by cancers is positive proof that maintaining the status quo is their for-profit business model. Meanwhile, as the cancer industry carnage continues, their profits have gone from the millions into the billions, and they do not even pay tax. Where exactly is the two billion dollars of research? After its 31+ years of existance, the organization has yet to show an accomplishment or even a single research paper. On the other hand, it has helped to fund millions of abortions using other peoples' money without their consent. That could be considered an accomplishment from a certain perspective.
Corporations who market with Komen's pink ribbons do so because they get greater profits due to increased customer sales. It is a con job of legendary proportions that despicably targets the most well intentioned of our society. Awhile, not so much as a finger has been lifted in any honest effort to save any person's life. Readers may wish to begin their own quest to locate any cancer victim who has ever been helped by Komen. The cancer deaths indirectly caused by the products of their corporate partners, and more directly from the Komen-sponsored abortions, are easily into the many millions.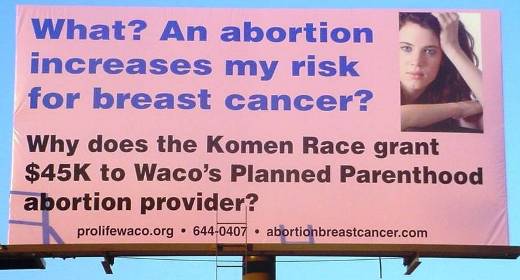 Despite dishonest public comments from Komen's representatives to the contrary, abortion increases the risk of breast cancer. It is not a small increase. For virtually every category of women, in every age group, the chance of getting cancer more than doubles after an abortion. When abortions are combined with birth control pill usage, and radioactive exams (both given by their partner organization), then the long term prognosis is bleak.
Something never mentioned by Komen or Planned Parenthood is the fact that the surest way to prevent breast cancer is to have a child and then breast feed him. Women become more vulnerable to breast cancer as soon as they become pregnant, showing the unique influence of pregnancy-related hormones, and many researchers believe that a permanent hormonal imbalance is created whenever an abortion interrupts the natural birthing cycle. This explains the correlation between abortion and breast cancers. It is similar to the way in which women with c-sections cannot lose weight afterward, since the natural birthing process was interrupted, which in-turn prevented their hormones from automatically resetting. Following pregnancy, women who breast feed their children are well protected against breast cancer. Cancer resistance is much greater for these woman than for those who did not have children. This is why breast cancer was once referred to as the "Nun's Disease", because only Nun's (who were celebate) got breast cancer. One might expect these findings to be in Komen's literature, since the organization is so concerned about preventing breast cancers. Instead, the hormone research is a topic that is absolutely avoided, and it has been public since the 1970's.
"The longer women breast feed the more they are protected against breast cancer."
Komen has been under fire from more legitimate breast cancer charities, due to its unethical marketing schemes. Particularly highlighted as an example is a partnership with Yoplait, which donated ten cents for each lid that was mailed in by consumers. At the time, postage for this cost 37 cents. Thus, the campaign was largely a farce, but it managed to get people to buy the product at an increased rate, and it required customers to give their address details to Yoplait marketing. This overall pattern of trapping good people through bait-and-switch tactics is seen throughout the huge pink ribbon industry. It is worth mentioning that Yoplait is a yogurt that features high fructose corn syrup, but it also includes the chemically-engineered form of vitamin A to make it healthy, after all.
Komen also likes to threaten lawsuits whenever legitimate non-profits use the phrase "for the cure", and it warns companies to never use the color pink in combination with the word "cure". Normally, charities do not legally attack others who have the same altruistic goals, but Komen is not a normal charity; and it is very arguably not even a charity at all. Showing its true character as a business, Komen protects what it precieves to be its trademarks. Jennifer Jenkins, Director of the Center for the Study of the Public Domain at Duke Law School, claims that such threats are typically on "shaky legal ground". Everyday phrases like 'for the cure' cannot be trademarked; but so far, no one has challenged this massive corporate superpower's bogus intellectual property claims of owning everything associated with the color pink and breast cancer.
While they are adamant that they are making a positive difference toward curing breast cancer, most of their public activity involves supporting non-progressive organizations that provide cancer-causing procedures or carcinogenic toxins. There is no mention of the risk of false positives for tests, the dangerous effects of radiation exposure, or the bleak outlook for those who follow the procedures that they support. They especially neglect to mention that avoiding an abortion, more often than not, saves two lives. There's a killing to be made, after all.
The Wall of Shame
Komen Pink Ribbon Corporate Sponsors
http://ww5.komen.org/CorporatePartners.aspx
1 a Minute
180s
3M
A&A Optical
ACH Food Companies
Acushnet
American Airlines
American Blue Ribbon Holdings
American Italian Pasta Company
Anchor Bay Entertainment
Anne Fontaine
Ansell Healthcare Products, LLC
Ariela-Alpha International
Arizona AFO
Ask.com
AT&T
ATP Electronics, Inc
Autobiography of SORAYA
avenue
Avery Dennison
Balance Walking by Foot Solutions
Bank of America
BCBG MAXAZRIA and ClearVision Optical
Beemster Cheese
Belcam, Inc.
Belk
Bernat
Bernina of America
BIC USA Inc.
Bi-Lo, LLC
BMW of North America, Inc.
Boar's Head Provisions Co., Inc.
Boots Retail USA, Inc.
Borders
Boston Warehouse
Bowl for the Cure
Brinker International
California Pear Advisory Board
Cameo Apple Marketing Association
Candy Coburn
Caribou Coffee Company, Inc.
Carlisle Collection, Ltd.
Carnival Cruise Lines
Cartier
Cause Care, LLC
Century Payments
Chesapeake Bay Candle Co.
Citizen Watch Company of America
Coldwater Creek
Collegiate Shipping Products, LLC
Company C
Corning Life Sciences
Crabtree & Evelyn
Crayola
Dallas Cowboys
Dansko
Del Frisco's Restaurant Group
Dell
Deluxe Checks
Deuce Brand
Dogtopia
Dots
DOVE Chocolate
Dr Pepper Snapple Group
DS Waters
Eggland's Best, Inc.
Electronic Arts Inc.
Emdeon
Energizer
EuroBlooms
Everyday Coupon Book
Pottinger Nichols Media Group, LLC
Evian
Exercise TV
Ford Motor Company
Freed's Bakery, LLC
FRITO LAY
FUZE
Glacéau SmartWater
Honest Tea
Ganz
General Growth Properties
General Mills
GUESS
GUESS by Marciano
Hallmark Gold Crown Stores
Hanesbrands
Helzberg Diamonds
Hewlett-Packard
Heys USA
Holland America Line
Home Shopping Network
Igloo
Imprintables Warehouse
Inliten
Irish Dairy Board, Inc.
Jingle Heart
Kelly Gale Amen Design
Kentucky Oaks
Kimberly-Clark
Kimberly-Clark, Huggies

KitchenAid
Kobian USA, Inc.
Koch Filter Corporation
Koi Design LLC
Kyocera
La Madeleine
LaCroix Sparkling Water
Ladies Professional Golf Association (LPGA)
LIFE Event-The Val Skinner Foundation
LifeWorks Technology Group
Litehouse Foods, Inc.
Louisville Stoneware
Lowe's Companies, Inc
LPGA Golf Clinics for Women
Major League Baseball
Massage Envy
McNeil Nutritionals, LLC
MD Jockey Club
MegaGoods, Inc.
Merck Consumer Care
Meredith Corporation
Microsoft
MMG Corporation
Mobile Edge
Mrs. Baird's Bakeries
NAPA AutoCare
Napa Valley Naturals
Nature's Flowers
NBC Today Show
Nestle Purina PetCare Company
New Balance Athletic Shoe, Inc.
New Global Charities
NKOTB
Nonni's Food Company
Nordstrom
North American Licensing Company
Not Your Daughter's Jeans
NYGÅRD International
Olivet International
On The Border
On the Go Hosiery
Ontic Golf
OPI
Oreck
Oregon Cherry Growers, Inc.
Oriental Trading Company
Otis Spunkmeyer, Inc.
Palmer's
Pandora Jewelry
Paramount Coffee
Payless ShoeSource
Pepperidge Farm
Perdue Farms Inc.
Philips Consumer Lifestyle
Pink Ribbon Produce
Planet Smoothie
PNY
Pottery Barn Kids
Premium Outlets
Princess Cruises
Prolacta Bioscience
Provide Commerce
Quilted Northern Ultra
Rally for the Cure
Raymond Weil
ReCellular
REMAX
Rich Products Corporation
Root Candles
Salon Quest LLC
Samsung Electronics Europe
Santa Barbara Design Studio and Designs by Lolita
Sarah Fisher Racing
She Colors My Day
ShoeDazzle
Shuman Produce, Inc.
Simon Malls
Specialized Bicycle Components
Springs Global
Stanley Black & Decker
Stein Mart
Stylemark, Inc.
The Hillman Group
The Mohawk Group
The Republic of Tea
Tim Halperin
Trident Seafoods Corporation
True Religion Brand Jeans
Tumi, Inc.
Ultradent Products
Verbatim
Victorinox Swiss Army
Wacoal America
Walgreens
Warner Brothers
Yoplait USA
Young Dental
Zeta Tau Alpha Fraternity
Zumba Fitness
The use of pink in Komen marketing, and the constant female-only imagery shows the unfortunate influence of feminism in our society. For this reason, other news organizations shy away from all criticism of Komen, since questioning the organization is an easy way to get labeled as sexist. Thus, Komen tends to be mostly immune from criticism and honest coverage about its activities. To other news outlets, this "charity" is beyond investigation.
Research Studies
The abortion-breast cancer connection. Brind J., Baruch College, City University of New York, NY 10010, USA. http://www.ncbi.nlm.nih.gov/pubmed/19462841
Risk Factors for Triple-Negative Breast Cancer in Women Under the Age of 45 Years. Jessica M. Dolle, Janet R. Daling, Emily White, Louise A. Brinton, David R. Doody, Peggy L. Porter, and Kathleen E. Malone. Fred Hutchinson Cancer Research Center. http://cebp.aacrjournals.org/content/18/4/1157.abstract
Select Committee on Science and Technology Written Evidence Memorandum 14 for November 15th, 2007, United Kingdom's Parliament. Dr Joel Brind, Baruch College of the City University of New York. http://www.publications.parliament.uk/pa/cm200607/cmselect/cmsctech/1045/1045we15.htm
Long-term physical and psychological health consequences of induced abortion: review of the evidence. Thorp JM Jr, Hartmann KE, Shadigian E. Department of Epidemiology, School of Public Health, University of North Carolina, Chapel Hill. http://www.ncbi.nlm.nih.gov/pubmed/12544786
Induced Abortion and Risk of Later Premature Births. Brent Rooney, Byron C. Calhoun, M.D.. Journal of American Physicians and Surgeons. http://www.jpands.org/vol8no2/rooney.pdf
The federal government and academic texts as barriers to informed consent. Lanfranchi, A., Robert Wood Johnson Medical School. http://www.ncbi.nlm.nih.gov/pubmed/18771039
Abortion, breast cancer, and informed consent. Kindley J. http://www.ncbi.nlm.nih.gov/pubmed/10758700
Related Articles
A True Story of An Abortion Without The Usual Lies
Video: 'The Cancer Report' Has Been Released!
Cancer Revisited: The Industry Suppressed Budwig Regimen or How To Cure Cancer With Cottage Cheese
A Sick Twist: Obama's Genocidal Czar, and Eugenics Through Health Care Reform
Beware of Deodorants, Especially The "Safe" and "All Natural" Ones
Why Americans Ought To Reevaluate What They Were (Falsely) Taught about Child Birth
Why Women Pay Dearly for Cesarean Sections for the Rest of Their Lives