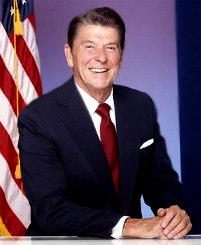 "If all of this seems like a great deal of trouble, think what's at stake. We are faced with the most evil enemy mankind has known in his long climb from the swamp to the stars [communism]. There can be no security anywhere in the free world if there is no fiscal and economic stability within the United States. Those who ask us to trade our freedom for the soup kitchen of the welfare state are architects of a policy of accommodation."
"The most terrifying words in the English language are, 'I'm from the government and I'm here to help you.'"
"Freedom is never more than one generation from extinction."
"Government growing beyond our consent had become a lumbering giant, slamming shut the gates of opportunity, threatening to crush the very roots of our freedom. What brought America back?  The American people brought us back -- with quiet courage and common sense; with undying faith that in this nation under God the future will be ours, for the future belongs to the free."
Listen to the speech that he made for the American Medical Association in 1961, concerning socialized medicine.
Related Articles
Video: The Immorality of Obamacare
The Health Care Bill, How the System Really Works, and the Unfree Market
A Sick Twist: Obama's Genocidal Czar, and Eugenics Through Health Care Reform