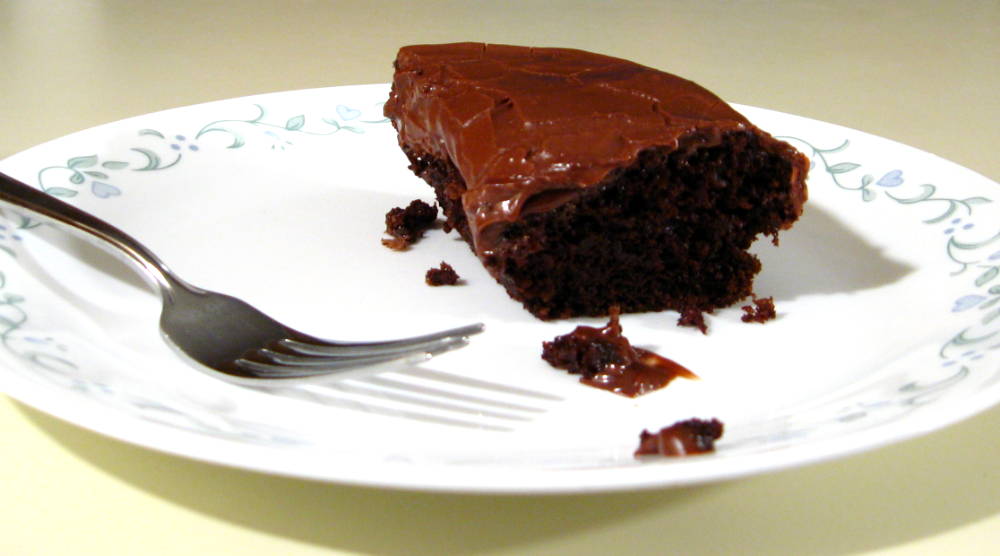 Sometimes it is okay to reward ourselves. This tantalizing cake is healthier than anything that can be bought. We simply dare you to find a chocolate cake that tastes better.
Cake Base Ingredients
2 cups sugar
1 3⁄4 cups flour
3⁄4 cup cocoa powder
1 1⁄2 tsp. baking powder (aluminum free)
1 1⁄2 tsp. baking soda
1⁄4 cup extra virgin olive oil
1 tsp. sea salt
2 eggs
1 cup milk
1 cup water
Frosting Ingredients
6 Tbsp. softened, unsalted butter
2 3⁄4 cups of powdered sugar
1⁄2 cup cocoa powder
1⁄3 cup milk
Directions
Mix evaporated cane juice, flour, cocoa, baking powder, baking soda, and salt together in a bowl.
Add beaten eggs, milk, and oil.
Mix for two minutes.
Bring cup of water to a boil.
Stir the boiling water into the mix.
Evenly distribute the batter into a greased and floured pan.
Cook the cake for 35-40 minutes in an oven that has been preheated to 350° F.
While the base is cooking, make the frosting by power mixing the frosting ingredients together.
Wait until the cake is cool, and then apply frosting.