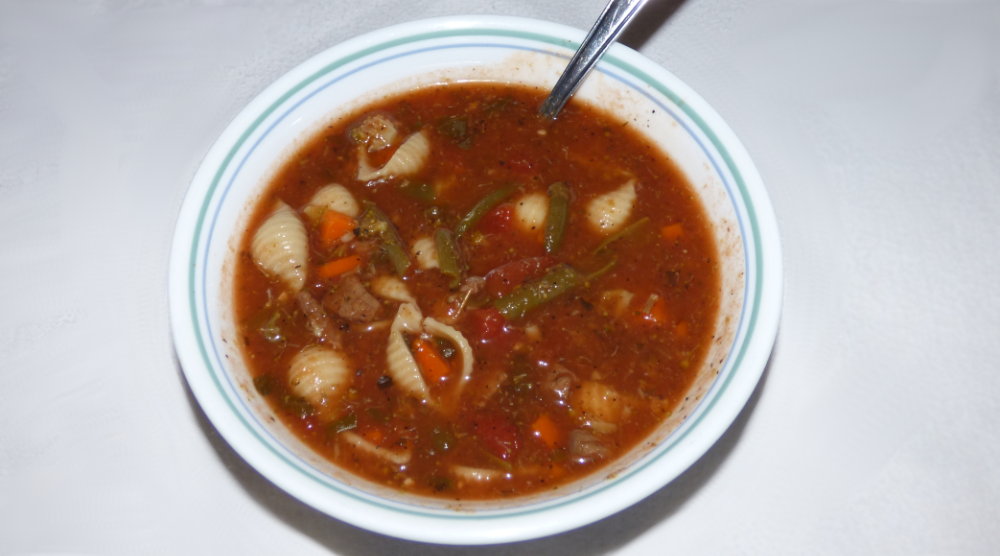 We heavily borrowed this recipe. It got its life after we read a long rant online from a jealous wife, who was a professional chef. She was upset because the recipe from her culinary-ignorant husband was much more popular than anything that she had ever made. Our first reaction was laughter, then we realized that the recipe was worth an investigation. We made a few tweaks and got this improved masterpiece. You cannot go wrong with this one. Even children who have problems with vegetables will find this irresistible after a taste.
Ingredients
45 oz. tomato sauce
30 oz. diced tomatoes
1⁄2 cup red wine (Merlot recommended)
1⁄4 cup Worcestershire Sauce
3 Tbsp. oregano
3 Tbsp. basil
1 Tbsp. sea salt
4 Tbsp. celery flakes
2 Tbsp. black pepper
1⁄2 cup sugar
5 Tbsp. onion powder
3 Tbsp. garlic powder
2 lbs. eye of round beef roast
16 oz. green beans
5 oz. baby spinach
16 oz. carrots
32 oz. broccoli
16 oz. shell pasta
Directions
Cut eye of round roast into small pieces while removing fat. The pieces should be about a 1⁄2 inch in thickness and about an inch wide.
Discard the fat.
Cut the baby spinach finely.
Remove the stalks from the broccoli and discard the stalks. Chop the remaining florets (broccoli heads) finely.
Chop the carrots into thin slices after shaving them.
Into a very large pot, add all the ingredients except for the shell pasta.
Add water to the pot until the mixture is thin and soupy.
Simmer over medium heat for 1 to 1 1⁄2 hours, until the green beans and the carrot are melt-in-you-mouth soft.
Add more water as is needed to retain a soupy thickness.
In the last 15 to 20 minutes of cooking, add the dry pasta shells, and use the soup itself to cook them.
Serve when the shells are at the correct softness.
Notes
This can either be made into a stew or a soup. It depends entirely on how much water is added. Our preference is to enjoy this as a soup.