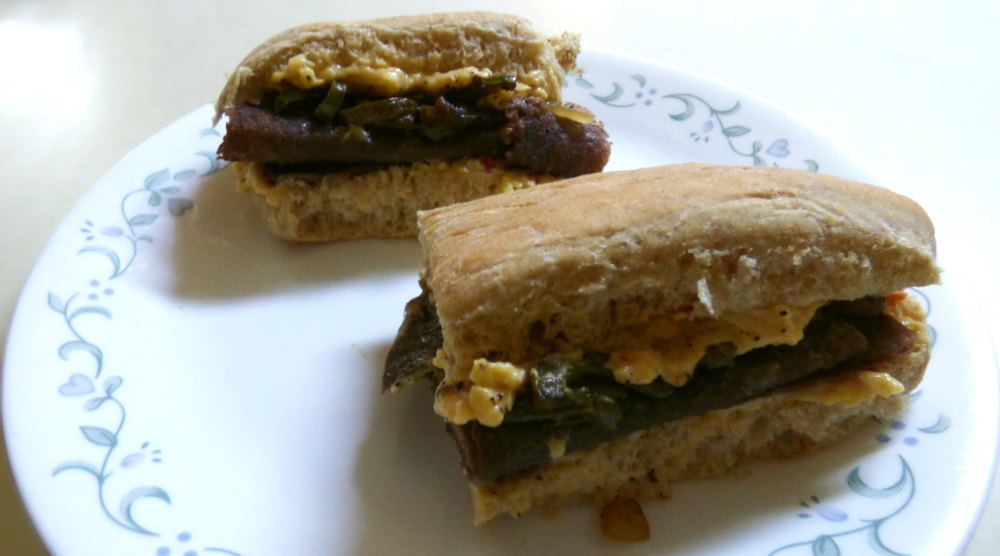 Ingredients
16 ounces Gouda cheese
2 onions
2 green bell peppers
1 1⁄4 cups evaporated milk
1⁄2 red bell pepper
1 Tbsp. onion powder
1 Tbsp. garlic powder
1 tsp. cayenne
1⁄4 tsp. salt
Sub rolls
Black pepper
1 package thinly sliced steak strips
Directions
Grate the Gouda cheese, and dice the red bell pepper into small cubes.
In a medium saucepan, add the milk, red bell pepper cubes, garlic powder, onion powder, cayenne, salt, and a couple of handfuls of the grated Gouda cheese.
Begin on high heat. When the ingredients are steaming and melted, reduce to medium heat, and slowly add the rest of the Gouda cheese.
Cut the green peppers and onions into thin strips.
Place the green pepper strips into a cast iron frying pan with a light layer of peanut oil.
Fry the peppers for 5 minutes, then add the onions to the pan.
Shake a heavy dusting of black pepper over the vegetables, and a light dusting of salt.
Fry them together over medium heat, and periodically add more oil if it is necessary to prevent sticking.
Cook steak strips according to package directions.