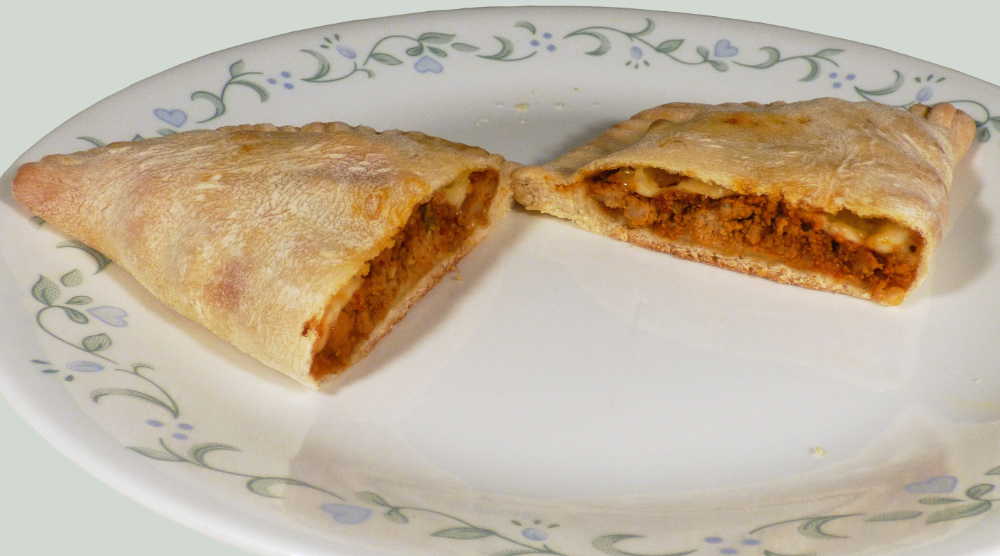 This recipe uses ground turkey meat, but it actually tastes like beef. The beef taste is a trick of the spices used.
Filling Mixture
2 lbs. ground turkey
2 3/4 tsp. minced garlic
4 tsp. onion powder
2 3/4 Tbsp. chili powder
2 Tbsp. paprika
2/3 Tbsp. achiote molido (annatto)
1 1/3 cups salsa
1⁄2 green bell pepper
1⁄2 red bell pepper
1⁄2 medium-sized onion
1 tsp. Sea salt
32 oz. Monterey jack cheese
Crust Ingredients
3⁄4 tsp. sea salt
4 cups organic flour
1 1⁄2 tsp. active dry yeast
3 Tbsp. peanut oil
1 1/2 Cups of water
Directions
Preheat the oven to 450° Fahrenheit.
Combine the crust ingredients together and let sit for about 15 minutes.
Cut the bell peppers and the onion into tiny pieces.
Shred the Monterey jack cheese.
In a large pot, first cook the ground turkey alone until it is brown for safety.
Then add the other filling mixture ingredients and simmer until the peppers and onions are soft.
Let it cool a little.
Cut crust into pieces and roll out.
Put Monterey Jack on half of each rolled-out crust and leave 1⁄2 to 1 inch around outside edge.
Put meat on top of the existing cheese underlayer and then top it with more cheese.
Use water around the edges as a glue and fold the tops over.
Seal it with a fork around the edges.
Place these on a greased pan.
Poke with fork to prevent air from exploding them.
Cook for 15 to 20 minutes.