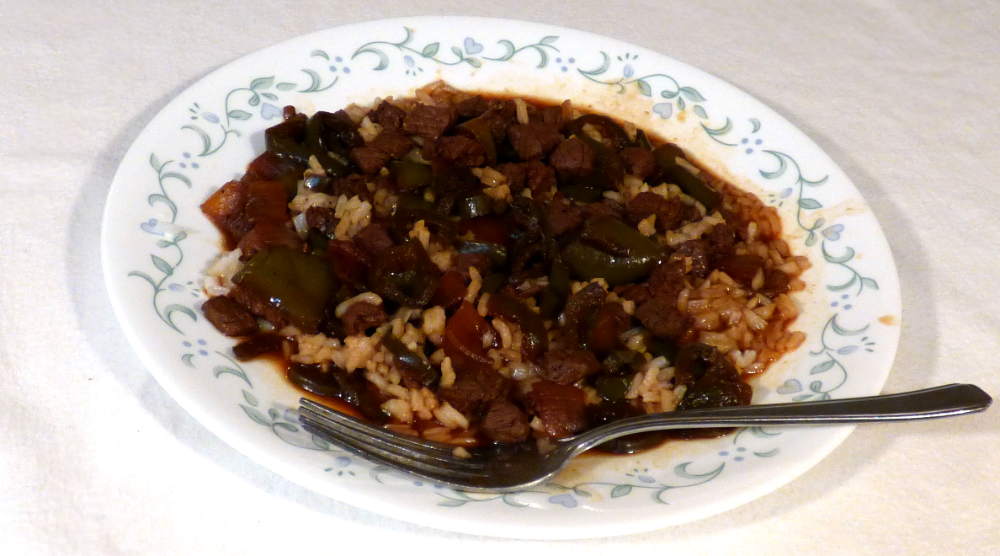 Ingredients
4 green bell peppers cut in chunks
9 jalapeños cut in pieces
1⁄2 onion cut in chunks
2 lbs. eye of round roast cut in small pieces
1⁄2 tsp. Chipotle
1⁄2 tsp. black pepper
1 16 oz. bag organic long grain rice
Teriyaki Sauce
1 cup soy sauce
1⁄4 cup white vinegar
1⁄2 cup red wine (Merlot)
2 Tbsp. honey
Directions
Cut the beef into thin strips that are about half an inch long.
Place vegetables, beef, and spices into a large pot.
In another pan heat the Teriyaki sauce mixture on low heat, until the honey is dissolved.
Pour the Teriyaki sauce into the other pot and cook until the vegetables become soft.
Prepare the rice according to its directions. You can mix the rice in or serve it separately.
Notes
The juices from the finished recipe make an incredible sauce for the rice if you opt to serve the rice as a side dish.