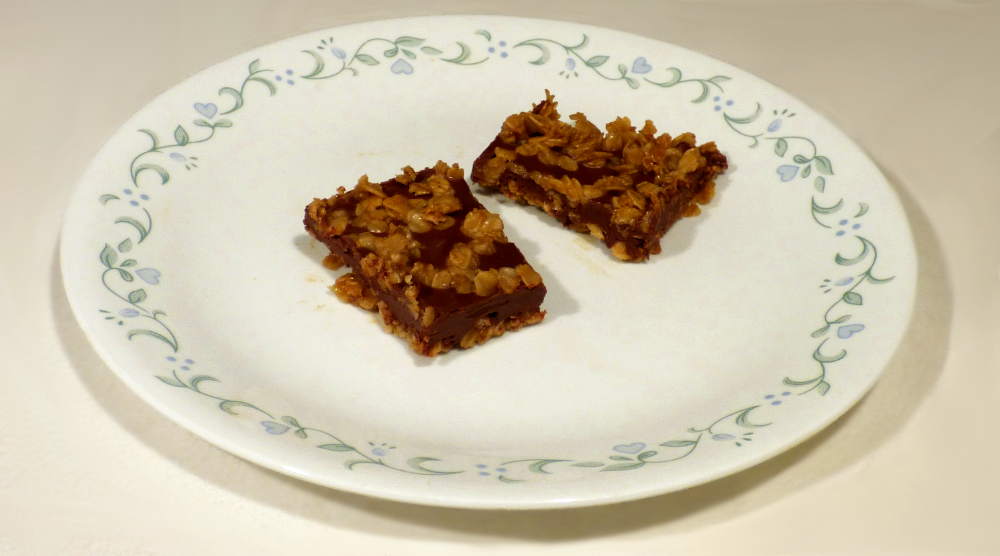 This treat is similar to no-bake cookies, only it is much more delicious, with a lighter flavor. You'll want to try this one.
Ingredients
1 cup butter
1/2 cup packed brown sugar
1 teaspoon vanilla extract
3 cups rolled oats (oatmeal)
1 cup semisweet chocolate chips
1/2 cup peanut butter
Directions
Grease a 9x13" baking dish
Melt the butter in a sauce pan at medium heat.
Stir in the brown sugar and vanilla extract.
Pour the rolled oats into the pan.
Stir and cook on low heat until the oats are slightly soft. This takes about 3 minutes.
Spread half of the oat mixture onto the prepared baking dish, but save half.
Melt the chocolate chips with the peanut butter in a small saucepan over low heat, stirring until the liquid is smooth. This takes about 4 minutes.
Pour the chocolate mixture over the oat layer and spread it evenly.
Crumble the remaining oat mixture over the chocolate and press it gently. Pressing it slightly will help the bars to hold together.
Cover with plastic wrap and allow it to harden in the refrigerator. This takes 2 to 3 hours.
Notes
This treat may be stored and served at room temperature, once it has hardened. For the sake of not destroying your health, the brown sugar should be organic. Otherwise, it is likely to be made from genetically-engineered sugar beets.