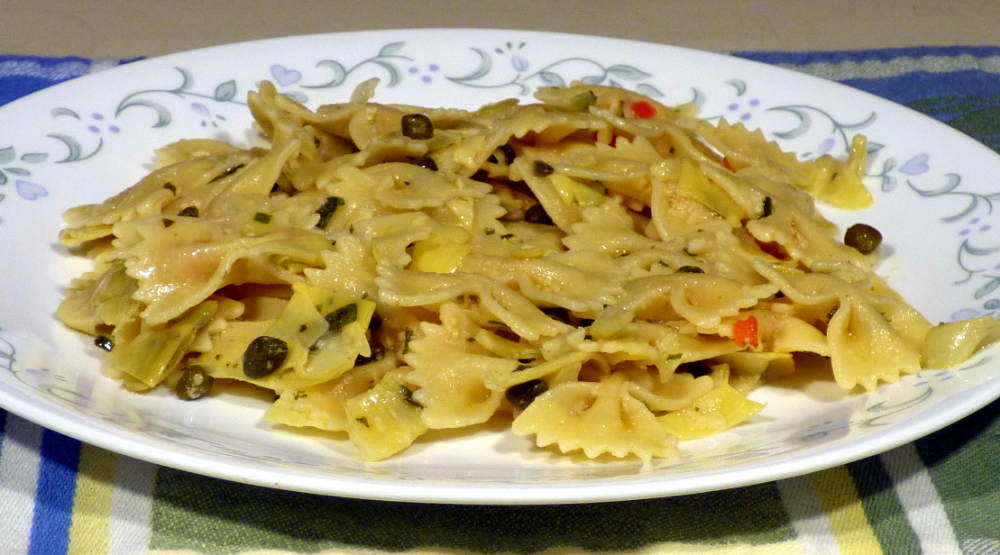 Ingredients
36 ounces of artichoke hearts
1/2 red bell pepper
2 lb. bow tie pasta (Farfalle)
3.5 ounce jar of capers
3/4 tsp. sea salt
3 tsp. vinegar
1 tsp. parsley
3 tsp. chives
2 tsp. garlic powder
2 tsp. crushed garlic
1 cup Parmesan and Romano cheese blend
1/2 lemon
2 sticks of butter (one cup)
Directions
Cut the hard parts off of the artichoke hearts, and discard them. Strain any excessive water.
Stir the artichoke pieces with the salt, capers, vinegar, parsley, chives, and lemon juice in any type of large container.
Chop the bell pepper into small cubes.
In a large sauce pan, melt the butter and add the chopped red pepper.
Add the garlic powder and crushed garlic to the buttery sauce.
Separately cook the pasta according to the package directions.
Gradually add the pasta to the buttery garlic sauce, mixing it constantly, until the pasta is covered with a layer of the sauce. The entire 2 lbs. of pasta will probably not be used.
Next, pour the artichoke mixture over the pasta.
Finally, add the Parmesan and stir thoroughly.
Notes
Canned or jarred artichoke hearts should be used for this recipe. Fresh artichoke hearts will not be softened enough and are likely to ruin the texture of this dish. This dish should be chewy but not crunchy. You may optionally add chicken to this recipe.