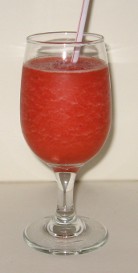 There are times when we are tempted to eat junk foods, and in the summer, one of our cravings is for slushies.  Unfortunately, the ingredients of commercial slushies are truly terrible.  They are nothing more than a cocktail of artificial flavors, artificial colors, and refined sugars.  Thus, last year, we decided to make our own.
Ingredients
1/3 cup freshly squeezed lemon juice
1 cup spring water
1 cup frozen strawberries, thawed overnight, with juice
1/4 cup evaporated cane juice
1 tray ice cubes
Blend all ingredients together in a blender until slushy.  Be careful not to go too long, or you'll just have a very cold drink.  Serve in a tall glass with a straw.