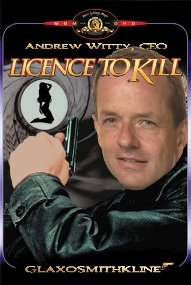 The name's Witty: Andrew Witty, and he'll be having his martini shaken, not stirred.
GlaxoSmithKline has begun settling lawsuits, because their diabetes drug Avandia causes heart attacks.  This minor complication would be resolved in a criminal court if any of us mere mortals gave people drugs that killed, but GlaxoSmithKline has its license to kill.  They call it F.D.A. approval.  It's somewhat coincidental that their cancer drugs cause diabetes, and the diabetes drugs cause heart disease.  All of which supposedly require more of their expensive drugs.
The F.D.A. recommended that Avandia be removed from the market after it caused a "substantial excess number" of heart attacks and heart failures.  How many heart attacks are acceptable?  How many have to die before their deaths are counted as an excess?  How many deaths before their license to kill is revoked?
Reuters reported that Avandia is no longer a big product for GlaxoSmithKline, as the patent on the drug will run out in just two years.  It is convenient that the public is notified of the danger only as the patent expires.
Unfortunately, drug companies don't make decisions about which drugs are 'good' and 'bad' based upon efficacy or safety.  Such decisions are made based solely upon profit-making ability.  Avandia has become a major P.R. problem and it's not making much money anymore.  They might as well kill the generic manufacturers while bailing out of the Avandia market.  Thus, they are paying people to be silent and bailing out.
"In its first-quarter financial report last month, Glaxo increased the reserves budgeted for legal matters by 210 million pounds ($325 million), some of which is expected to go towards settling Avandia cases."
— Reuters
Pharmaceutical companies actually store a war chest to deal with lawsuits.  If they can afford to do that easily with money always being left over, then surely they are not being fined enough to modify their behavior.  It would be reasonable to revoke their licenses to kill, and to imprison those in positions of authority, as we would for any citizen who had poisoned others to death.
At the same time as settling these lawsuits, Glaxo has stopped a trial on a resveratrol-based drug that caused blood cancer in some patients.  Resveratrol is an ingredient that is found in grapes, and it is known to slow aging, remove excess iron in men, prevent heart disease and Alzheimer's Disease (in its natural organic form).  Only the pharmaceutical companies could find a way to make it harmful.  The study has been halted while they interpret the results to see if there is a substantially excessive number of "complications".
We believe that it is time to disarm these people, and to hold them accountable for the deaths of hundreds of thousands each year.  Each year, it is more than the total that died from the entire Vietnam War.