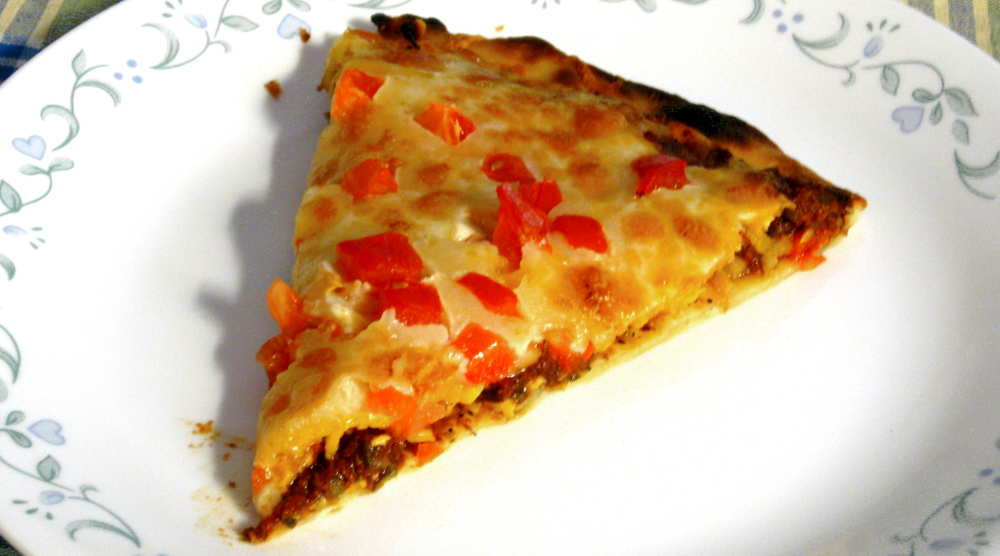 Ingredients
15 oz. of tomato sauce
3 Anaheim peppers chopped fine
3⁄4 Tbsp. of chili Powder
1 2⁄3 tsp. garlic powder
2 1⁄3 tsp. onion powder
1 tsp. black pepper
1⁄2 Tbsp. of oregano
1 tsp. dill weed
1 tsp. cumin
1 tsp. chives
1⁄2 tsp. cayenne pepper
1 medium tomato chopped
16 oz. Monterey jack cheese Shredded
16 oz. Cheddar cheese Shredded
Directions
Use our tortilla shells recipe for the crust. Put the dough on floured surface and roll out.
Put it onto a greased pizza pan and poke holes throughout the surface of the dough to prevent the formation of bubbles in the crust.
Bake at 400° F. for 15-20 minutes. Check often to make sure that no bubbles form. Burst any bubbles with a fork. Crust should eventually become brown and crispy.
In a large pan add tomato sauce, Anaheim peppers and spices. Simmer this sauce until the peppers are soft.
When the crust is finished, apply the tomato sauce mixture and spread it around evenly.
Apply the Monterey jack cheese as an even layer.
Add an even layer of Cheddar cheese. This is applied last because of Cheddar's oiliness, and some of the oil may need to be dabbed off with a paper towel.
Garnish with the tomatoes on the top.
Put the pizza under the broiler to melt the cheese. Then it may be served.