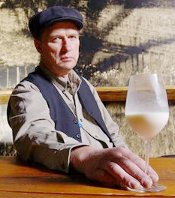 Editor's Note:This article came to us as a press release. We are posting it because we believe that it will interest our readers.  It was written by a third-party, and we have not previewed the movie.
On a November morning in 2006, 20 armed officers raided a small farm two hours north of Toronto. They weren't looking for drugs or guns. They were there for the milk.
Dairy farmer Michael Schmidt found himself facing multiple charges. The offense: selling unpasteurized milk, a practice outlawed in Canada since 1991. Milk War, an original ichannel documentary making its world television premiere this month, tells the story of one man's battle with government authorities over raw milk – a fight that Schmidt insists is really about the fundamental right "to eat what we want."
Ichannel, Canada's political and social issues network, presents Milk War on Sunday, Sept. 26 at 8 pm and 11 pm ET. The hour-long film was written and directed by award-winning journalist Kevin O'Keefe, and produced by Declan O'Driscoll. Gemini Award-winning actor Colm Feore narrates.
Born and raised in postwar Germany, Michael Schmidt has long nursed a suspicion of authority and a belief in standing up for basic principles. On his Durham, Ontario farm, he practices a rigorous organic method known as biodynamic agriculture. And since the early 1990s, he has been catering to an enthusiastic clientele who swear by the superior taste and health benefits of the raw milk he produces. Through a co-operative venture called "cow-sharing," Schmidt sells shares in each of his cows to individual owners, who take their dividends in the form of milk.
The province of Ontario introduced mandatory pasteurization of milk in 1938. Public health officials say the process eliminates potentially dangerous pathogens and ensures that the milk is safe to drink.
Devotees of raw milk, for their part, say it can be produced every bit as safely – and that it is far better for you than its processed counterpart. Scientific opinion is divided. But Canadian law is unequivocal: it's illegal for anyone in this country to sell or distribute raw milk to consumers.
Michael Schmidt's opposition to the raw milk ban put him on a collision course with the Ontario government, and set off a public debate that touched upon a whole host of issues: the immense power of Canada's $12-billion dairy industry and the challenges facing small, independent farmers; the increasingly controversial nature of large-scale factory farming methods; and a growing public unease about the way most of our food products are processed before they reach us.
At the heart of this debate is a question of basic freedoms: should government have the right to decide what we, and our families, are allowed to eat?
Milk War was co-produced for ichannel by Stornoway Communications and The Path to Gimli. The film makes its public premiere at Toronto's The Royal on Sunday, Sept. 19 at 7:30 pm, as part of the M.U.C.K. (Movies of UnCommon Knowledge) Film Festival.
Milk War writer/director Kevin O'Keefe co-hosts ichannel's flagship current affairs series @issue, which airs Mondays through Saturdays at 8 pm and 11 pm ET.
Related Articles
Canadian Criminal Mastermind: Michael Schmidt and The Illegal Milk Trade
Forbidden Fruits: Whatever Medicinal Foods The F.D.A. Forbids
Video: Health Food Store Raided at Gunpoint For Selling Natural Milk
The History of Opium and The History of How the Pharmaceutical Industry Intentionally Created Drug Addictions